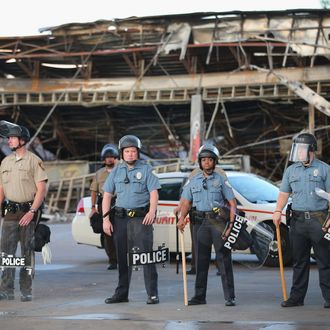 Photo: Scott Olson/Getty Images
The Ferguson Police Department released a redacted version of the police report regarding the robbery that took place before Michael Brown was shot. Earlier today, Dorian Johnson, a friend of Brown's who witnessed the shooting, corroborated the report's account of the convenience store incident, according to MSNBC. Missouri governor Jay Nixon expressed concern that the report does not offer a full picture of what happened the night Brown was shot.
"I think the focal point here remains to figure out how and why Michael Brown was killed and to get justice," Nixon said.
Update: The Washington Post has footage from the surveillance camera that police say recorded Brown in the convenience store. You can watch the clip below.