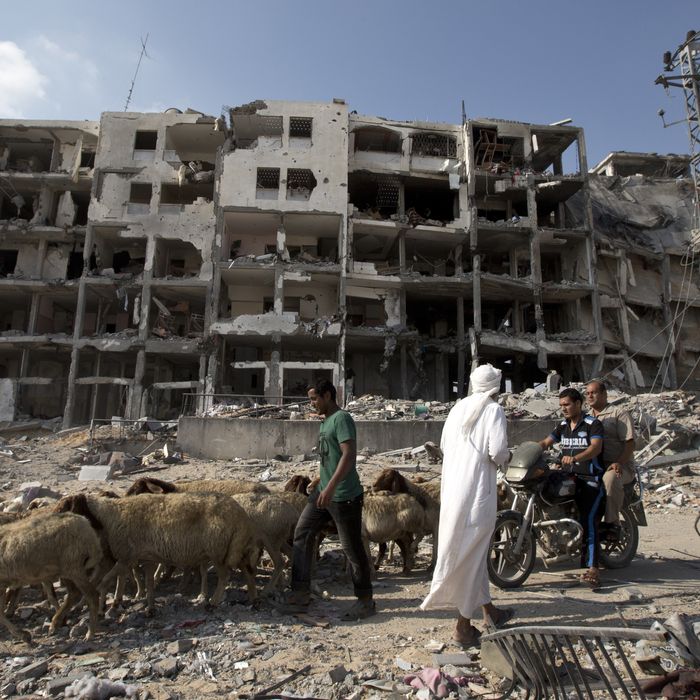 Palestinians walk past destroyed buildings in Gaza on August 5, 2014.
Photo: MAHMUD HAMS/AFP/Getty Images
Another 72-hour cease-fire between Israel and Hamas began on Tuesday morning, and so far it appears more successful than their last attempt at a break in the nearly month-old conflict. That isn't saying much, as the last three-day cease-fire fell apart in less than two hours, and the two sides were still firing at each other minutes before Tuesday's truce went into effect. The Israel Defense Forces said about 20 rockets were fired into Israel just before 8 a.m., and the Israeli air force conducted at least five strikes in Gaza. Still, the attacks from both sides have been tapering off in the past few days, and there's hope that the latest cease-fire may lead to a sustainable truce.
Israel has been pulling its troops back for several days, but in what the New York Times describes as a "major concession" to the deal brokered by Egypt, it said all ground troops would leave Gaza by the time the cease-fire began. "We will be redeploying in defensive positions outside of the Gaza Strip and we will maintain these defensive positions," IDF spokesperson Lt. Col. Peter Lerner said, adding, "The IDF will respond if it is attacked, and if there are strikes against us."
Lerner said Israeli forces are ready to withdraw, as they've razed 32 tunnels between Israel and Gaza, which were "part of a strategic Hamas plan to carry out attacks against southern Israel." He said Israel has also destroyed more than a third of Hamas's arsenal of 10,000 rockets, and killed "approximately 900 militants in combat."
Israel says it's lost 64 soldiers and three civilians in the conflict. Gaza officials report that more than 1,800 Palestinians, most of them civilians, have died. The United Nations estimates that about 260,000 of the 1.8 million people living in Gaza have been displaced.
In the coming days, the two sides are expected to meet in Cairo to begin talks on a more long-lasting peace agreement. For now, those in Gaza say the situation is calm but tense, and people are beginning to venture out on the streets again. BBC reporter Martin Patience described the scene in Gaza City:
I have just been down to the port and I have seen fishermen heading out to sea. I have been here for more than a week now and that is the first time I have seen that. People here will be taking this opportunity to get out of their homes, stock up on supplies and try to make sense of all the death and destruction here after the last four weeks.