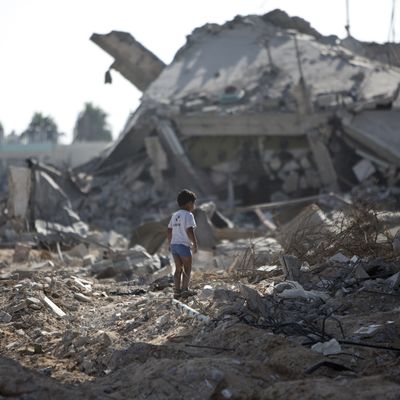 Photo: Mahmud Hams/AFP/Getty Images
It took less than two hours for the humanitarian cease-fire in Gaza to fall apart. Israel and Hamas are blaming each other for the end of the truce, which was announced yesterday and scheduled to last for three full days.
The Israeli military says that Palestinian militants violated the cease-fire at 9:30 a.m., when several men emerged from one of the tunnels running from Gaza into southern Israel. The agreement had allowed Israel to continue destroying the tunnels, which is what a group of soldiers were doing when the attack occurred: "Out of a tunnel access point or several, terrorists came out of the ground. At least one was a suicide terrorist who detonated himself. There was an exchange of fire," said spokesman Lieutenant-Colonel Peter Lerner, who said that two of Israel's soldiers were killed and a third was kidnapped. "The initial indication suggests that a soldier has been abducted by terrorists during the incident," Lerner told reporters. The missing soldier has been identified as 23-year-old Second Lt. Hadar Goldin.
Meanwhile, the Gaza Health Ministry said that more than 50 Palestinians were killed by Israeli shelling in the town of Rafah. Many of those people were civilians who were using the cease-fire as an opportunity to return to their already-wrecked homes in the area. According to the New York Times, a senior Hamas official, Moussa Abu Marzouk, told a Turkish news outlet that the group had captured an Israeli soldier, but that the abduction had happened before the cease-fire began. Hamas also released a statement saying that Israel had only announced the kidnapping "to cover up the barbaric massacres, especially in Rafah."
United Nations special coordinator Robert Serry sent out his own statement urging both sides to "reaffirm their commitment to the humanitarian cease-fire." But, at least for now, it seems that the violence will continue.