Former president and quintessential goofy dad George W. Bush was nominated to take the ALS Ice Bucket Challenge by several people, including his daughter Jenna Bush Hager. But, he said, "I do not think it's presidential for me to be splashed with ice water so I'm simply gonna write you a check." Ha-ha, sike!
In the totally not staged next frame, Laura Bush sneaks up behind him as he's writing the check and dumps ice water on his head.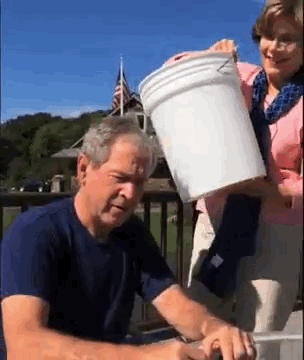 BUT — look closely. Is there actually any ice in that bucket? There certainly doesn't appear to be. Call me an Ice Bucket Challenge truther, but I think the government is trying to trick us into seeing ice where there isn't any.