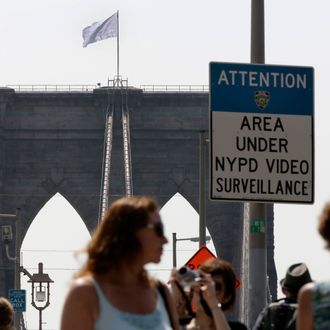 Rest assured, patriots, life is finally starting to get back to normal around here: The American flags swapped out for bleached versions atop the Brooklyn Bridge in an epic, harmless art project — one that fully stumped the biggest police department in the country — have been returned by the Berliners who took them. "They are back on American soil," an NYPD spokesperson told the Daily News, as if they did the work. After a month riddled with anxiety about a potential Germany invasion, New York City can sleep soundly tonight.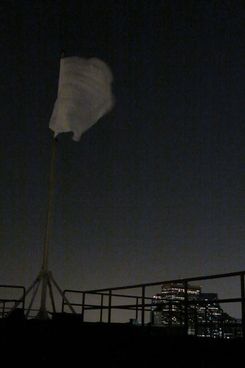 Mischa Leinkauf and Matthias Wermke, the artists who have said, convincingly, that they were responsible, were not exactly tracked down and made to pay; they simply handed the flags over to the U.S. embassy in Germany, as they planned to do all along. "The return of the original flags is in progress," they wrote earlier this month on their website, explaining that the stunt was to honor the bridge's German designer John Roebling on the 145th anniversary of his death.

Not that the NYPD seemed to know that bit of trivia when they assigned dozens of their best detectives to the case weeks ago.
But the police are now hot on the trail of the lovable duo, who returned to Germany two days after pulling off the switch. "They have certain information about the manufacture of the flag, they've produced video of the flag flying on top of the tower that was obviously taken at night during the limited time the flags were up there, so there is little reason to doubt their claim," said NYPD Deputy Commissioner of Intelligence and Counterterrorism John Miller last week. The artists have yet to be questioned. It may be time for the NYPD to wave a white flag of its own. Good effort, though, guys.