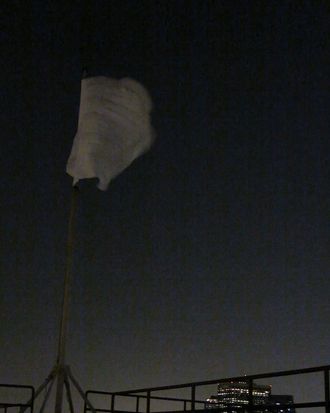 The duo's proof is this photo.
Photo: Matthias Wermke and Mischa Leinkauf
Beating the NYPD to the chase, Mischa Leinkauf and Matthias Wermke, two artists from Berlin, have gone ahead and revealed that they were the ones responsible for putting two white flags on top of the Brooklyn Bridge last month. Unlike the stoner bro who took credit, these two seem legit.
"This was not an anti-American statement," said Wermke in an exclusive interview with the New York Times, nor was it intended "to embarrass the police" (although it has, thoroughly). Rather, it was a project meant to celebrate "the beauty of public space," while honoring the bridge's German engineer, John Roebling, who died in an on-site accident July 22, 1869, 145 years to the day the white flags showed up. Roebling's son August, who "completed the masterpiece fourteen years later," died July 21, 1926. This was for both of them.
"From our Berlin background, we were a little surprised that it got the reaction it did," said Leinkauf, of course, because Berliners are always chill.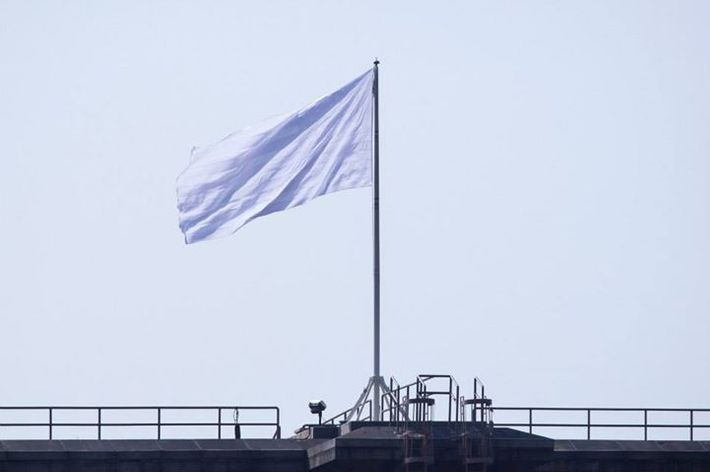 In a press release obtained by Business Insider, Wermke and Leinkauf, who say they sewed the flags themselves, described the project, invoking Jasper John's flag work and Philippe Petit's World Trade Center wire walk:
Brooklyn Bridge, July 21st /22nd   
In the night from July 21st  to July 22nd  Wermke/Leinkauf hoisted two hand-sewn white American flags on the towers of Brooklyn Bridge. They were careful to treat the bridge and the flags with respect and followed the U.S. Flag Code. The return of the original flags is in progress.

Like an empty canvas, White American Flags  invites many readings, multiple interpretations and projections.
They also claim to have put balloons on the Brooklyn Bridge way back in 2007, although no one really noticed. The artists' website includes previously unseen photos from this latest stunt, while their Facebook page shows just how easily they can scale buildings and bridges:

"We have some leads we're following up on," a spokesperson for the NYPD told the Times, despite being presented with their culprits following weeks of searching by dozens of detectives. "The police commissioner feels optimistic that within a reasonable amount of time, we may be able to make some arrests."
Wermke and Leinkauf aren't really running. "We always face the consequences," Leinkauf said in the Times article. "This is part of the work, to have an open discussion. We just needed a little time to decide how to respond to the reaction."
Like the honest, straightforward Germans they are, the duo plans to eventually return the flags they took.