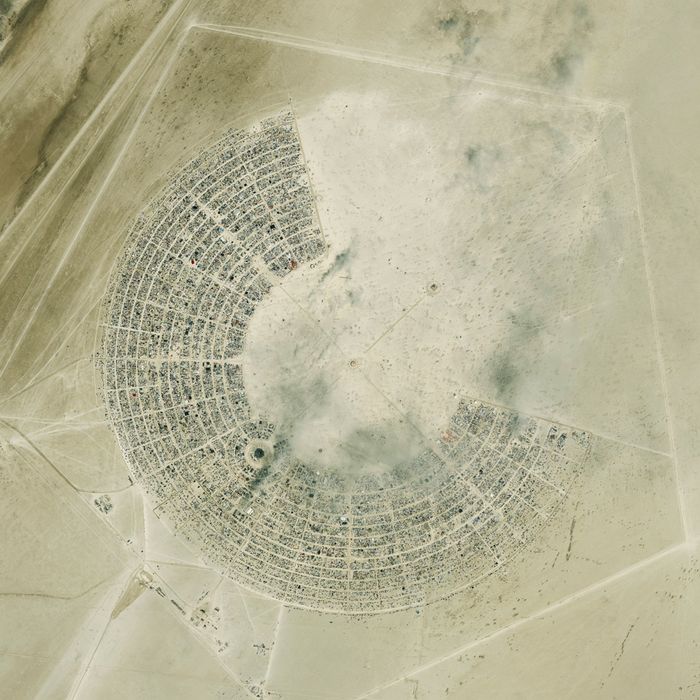 This is a DigitalGlobe satellite image "overview" of the Burning Man Festival in Black Rock City Nevada. Imagery collected on August 29th, 2013.
Photo: DigitalGlobe via Getty Images
For nearly 30 years, God has permitted Burning Man to go on more or less unhindered, despite the drug-fueled debauchery that takes place there. But this year, He is getting his revenge on the weeklong art-and-creative-expression festival held annually in the Nevada desert (which is, depending upon whom you ask — a lame networking event, a rich-man's bacchanal, a cyberpunk mecca, a canvas for radical self-expression, or a place to patch up old feuds) in the form of a huge rainstorm that has closed Burning Man entirely.
According to Burning Man's official Twitter feed, the rain-out is likely to continue until tomorrow.
Burners aren't happy about the late start:
I'm among those trying to get to Burning Man — it's my first time, and I'll be blogging about the festival's tech-heavy culture throughout the week — although I'm still at home, not trying to find backup accommodations in Reno. Hopefully, the rain will lift soon, at which point revelers (and their sherpas) will be allowed to set up camp.