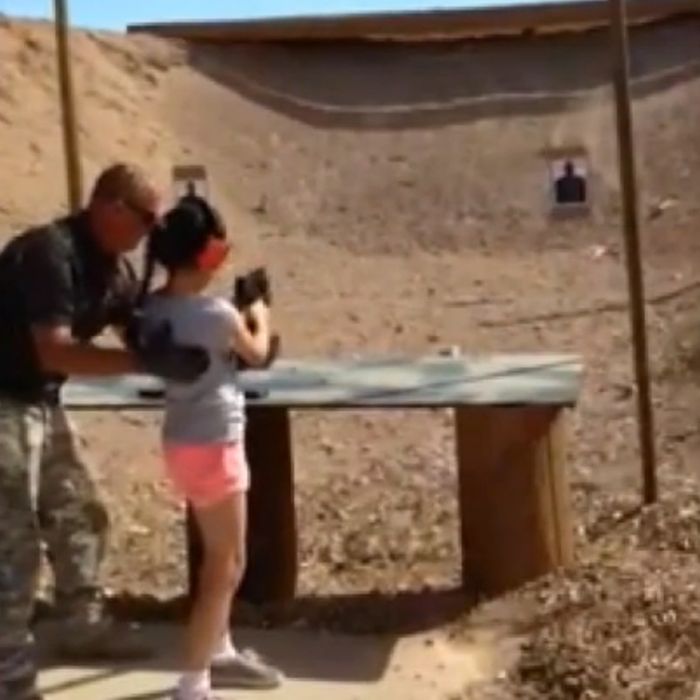 "Just take this hand and grab it right in there," says the instructor to the child. "Just like that." A 9-year-old in pink shorts fires a single shot. "All right! All right, full auto!" says her enthusiastic teacher at an Arizona gun range, flipping a switch. Then, mercifully, the video released by the local sheriff's office cuts off.
The death on Monday of 39-year-old Charles Vacca, shot at least once in the head when the girl's Uzi, an automatic submachine gun, recoiled during target practice, is a tragedy the range's owner claims is rare, a freak accident. "In the last 14 years, we've probably had 100,000 people shoot five million rounds of ammunition, and of those, a thousand to two thousand of them were children," Sam Scarmardo told the New York Times. "We've never given out a Band-Aid — no one's never even got a scratch." Until now, that is — although his policies are unlikely to change much, if at all, as a result.
"We grow some pretty big 8-year-olds out here in Arizona," Scarmardo said to Chris Hayes on MSNBC last night. "This was a very mature young lady, and something she wanted to do … It was something high on her bucket list to do." The child, who was on vacation with her family from New Jersey, has not been identified, and no charges are expected in Vacca's death. 
"What we're kind of kicking around right now is like at Disneyland — you know, if you're not this tall, you can't shoot," said Scarmardo in the aftermath, although he did tell the Associated Press, ''I have regret we let this child shoot, and I have regret that Charlie was killed in the incident."
Arizona has no age restrictions on firing guns, and Scarmardo's Last Stop shooting range typically allows kids 8 and older to fire its array of automatic weapons. "It is pretty standard in the industry to let children shoot on the range," the owner told the Times. "We are working with the Mohave County Sheriff's Office, and we'll make a decision if we'll make any changes after we review all the facts." The Guardian reports that children are temporarily barred from shooting during the investigation.
The range is popular with tourists from nearby Las Vegas, as part of the Bullets and Burgers tour — for $200 a person, just about anyone can "shoot a wide variety of fully automatic machine and belt fed guns including the AK-47, Colt M-16, MP5/40, FN FAL, Bren, M4, M249, M60, PKM and M203 Grenade Launcher." The titular burgers are included, with an upgrade available that includes a helicopter ride over the Grand Canyon.
Vacca, a military veteran, "was very well-trained," Scarmardo insists. "We lost a friend — basically, we lost a brother."
But in a bit of inopportune timing — hopefully unintentional, but you never know — the @NRAWomen Twitter account, affiliated with NRA.org and sponsored by Smith & Wesson, followed Vacca's death on Monday with a message plugging "7 Ways Children Can Have Fun at the Shooting Range."
The tweet has since been deleted, but the linked article, on Women's Outdoor News, remains. Suggestions include "animal shaped targets," "multi-colored targets," "mutants and zombie targets," and "exploding targets."