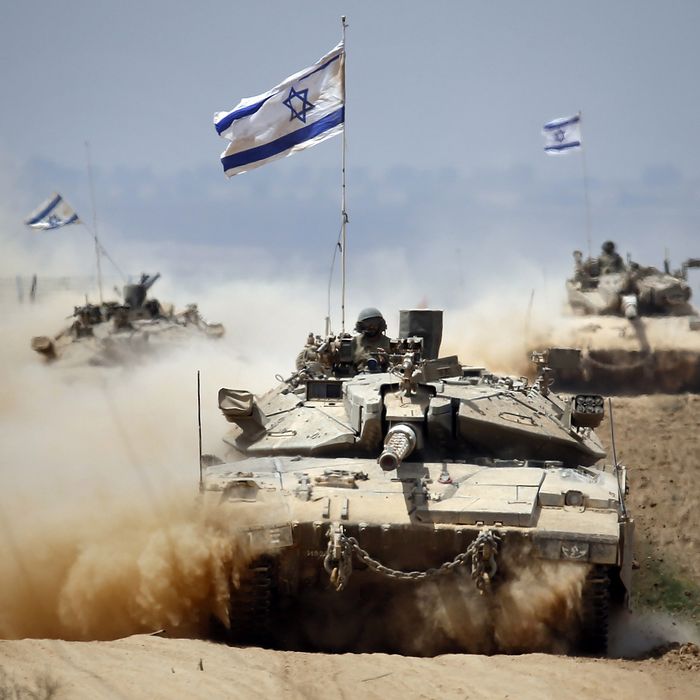 Photo: Thomas Coex/AFP/Getty Images
The hotly debated story of who exactly was behind the kidnapping of the three Israeli teenagers killed in the West Bank is still developing. This week, Israeli officials announced that they have arrested the man who allegedly orchestrated the abductions — Hussam Qawasmeh — and that he confessed to receiving orders and financing from Hamas leadership in Gaza. Mideast correspondents Jon Donnison and Sheera Frenkel previously quoted two different Israeli officials questioning whether Hamas was directly involved in the incident, which sparked the current round of conflict in Gaza.
Qawasmeh's arrest came shortly after a 72-hour cease-fire between Israel and Gaza took effect. The Daily Beast's Eli Lake writes that, "Israeli news reports say Qawasmeh acknowledged during interrogations that he received money and direction from Hamas leaders in Gaza to conduct the June 15 kidnapping. He was arrested trying to flee to Jordan using phony identification."
Lake's source Shaul Bartal emphasized links between the Qawasmeh clan and Hamas, but cast doubt on the idea that the larger group gave specific orders for the three teens. Yet Bartal added that a kidnapping resulting in a prisoner release would give Hamas a needed boost ahead of the 2015 elections. 
On the other hand, a spokesman for Israeli Prime Minister Benjamin Netanyahu, Mark Regev, identified Qawasmeh as a "senior member of Hamas."
But the kidnapping didn't turn into a prisoner release. Naftali Frenkel, Eyal Yifrach, and Gilad Shaar were murdered shortly after they disappeared, and their deaths became one of the direct causes of Israel's Operation Protective Edge in Gaza. This is what makes the details so important and so difficult to discern.
Frenkel, one of the reporters who originally said the kidnappers were a "lone cell," said she reviewed the summary of an ongoing investigation from the Israeli government that makes no mention of direct orders. She followed up with her source in the Israeli intelligence community after the arrest:
When reached for comment Wednesday, after the Israelis had revealed the arrest of Qawasmeh, the same officer told BuzzFeed that from an intelligence standpoint, a connection still did not exist to the senior Hamas leadership.

"Was it possible they were a lone Hamas cell that was operating on their own, trying to show up Hamas in Gaza? Yes, that's possible," said the intelligence officer, who spoke to BuzzFeed by telephone. "But from the point of view of our investigation, we haven't found that tie to the senior Hamas leadership, to orders that were made to carry out a kidnapping at this time."
Qawasmeh comes from a family known for terrorist activity, and a member committed a suicide attack in 2003. His lawyer, a distant relative, told Frenkel the confessions had been obtained under "heavy torture."
Tablet Magazine's Liel Leibovitz raised the important question of anonymous sources, used by Frenkel in reporting her story:
Why believe the new, official Israeli version of events over Frenkel's anonymous intel sources, who said flatly that Hamas wasn't responsible? This is where some background in reporting comes in. Anonymous sources can be slippery, which is why reporters are generally very careful in relying on information that they provide. They are the lowest rung on the sourcing ladder for this kind of story. Next come public officials, who are willing to be cited by name. At the very top of the ladder are public documents, especially those that emerge in the context of a legal proceeding—where falsification of evidence could lead to jail time, and certainly to the end of any public official's career. The new version of events comes from state documents in a court case and not from anonymous sources. By showing that a major suspect in the case was in custody three weeks ago, the documents also strongly suggest that Frenkel's information didn't come from a whistle-blower. Rather, it suggests that her information was either badly out of date or the result of a deliberate attempt to mislead her.
BBC reporter Jon Donnison, who received the same information from a named source, Israeli police spokesman Micky Rosenfeld, has not yet commented on these new developments. He earlier tweeted that he stood by his reporting.