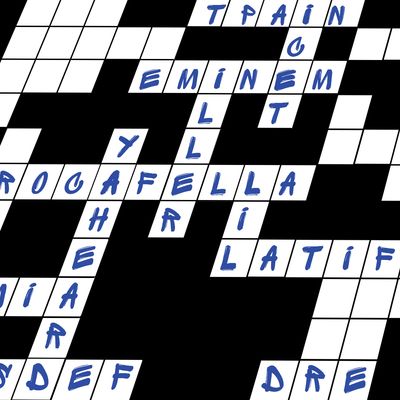 46. Rapper who hosted MTV's Pimp My Ride
55. Rapper with the 3x platinum single "Hold On, We're Going Home"
75. Record label co-founded by Jay Z
34. Rapper with the 2008 hit "Paper Planes'
48. Rapper with the autobiography The Way I Am
For the out of touch and ancient at heart, that's XZIBIT, DRAKE, ROCAFELLA, MIA, and EMINEM, all answers not in People's crossword puzzle, but from the New York Times, each used within the last week. Lowbrow? Maybe. But increasingly common among the clues in the gold standard of newspaper puzzles, according to the page's guru, who is shameless about the demographic shift. "Rap and hip-hop culture in general is an increasingly important part of life," says Will Shortz, the Times puzzle editor for the last two decades. "And so it should have an increasing role in the crossword." Plus: So many good words!
"Dre, Dr. Dre — such useful answers, they've been appearing for years," says Shortz, who took over the crossword in 1993 as gangster-rap hit its (first) peak. At the time, he's said, the puzzle was trending toward "stodgy, old-fashioned, humorless, not particularly interesting." But three months into his tenure, in February of 1994, Shortz included the clue "Noted rapper." (Answer: ICET.) "It's short and has great letters," he says now, having gone on to use the "Cop Killer" emcee turned actor dozens of times throughout the '90s with a variety of clues (e.g. "Tracy Marrow, familiarly"; "Musician who co-starred in Trespass").
But the backlash was immediate. "I got a letter within those first couple months from someone who rejected the modern cultural references and said, 'You're trying to appeal to young solvers, and there's no way they'll ever solve the Times crossword,'" says Shortz. "I'm glad to have proven him wrong."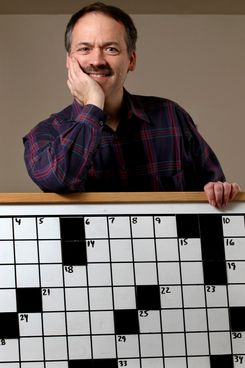 Shortz estimates that the average age of those who do the puzzle has fallen by 15 years — "or more" — during his time at the paper, to somewhere around 40. Those people grew up with rap. He's also published 30 teenage puzzle-makers in his time, most of them within the last decade. "Crossword construction is attracting young people more and more, so naturally people put in the puzzle what they're familiar with," he says.
The growing cultural relevance of rap has allowed Shortz and his writers to spice up not only answers but clues. Whereas DRAKE may have previously been relegated to hints like "Sir Francis ____," the word now exists in a completely new context. "In the old days, NAS would be clued in terms of the '80s show Emerald Point N.A.S.," says Shortz. "The first time I clued it in terms of the rapper was 1999 — 'If I Ruled the World' rapper.'"
One of next week's puzzles — spoiler alert — has THEGAME as an answer. Shortz considered using the 1997 Michael Douglas movie as a clue, but "finally went with the rapper," a slightly more current reference ("Rapper whose 2006 album Doctor's Advocate was # 1"). Slang in the clue itself, though, may be a bridge too far: Shortz, in a forthcoming puzzle by a college student, changed the hint "You might see some spitting" — answer: RAPVIDEO — to the punny "50 Cent piece." 
The creeping in of pop culture has not been confined to rap. SNOOKI has appeared four times — "I don't think I'll take any more puzzles with Snooki. That's history now," says Shortz – but there are blind spots. Country music, for one. "I don't know it, and my guess is people who create crosswords for the Times don't know it, either," he says. "We have a more urban audience. It's just the way it is."
To the crotchety traditionalists, Shortz says, "Even if you don't listen to rap music, you can't avoid it," as with sports teams and star athletes. "You should at least know the names." And for those who remain stumped — "If you don't know it, it's not inferable," he admits of some the epic June answer SOULJABOYTELLEM — just relax. "There will be puzzles that skew old, so I think, over time, things balance out."
Other notable hip-hop clues from over the years:
May 18, 1997: Rap duo ____ Kross (KRIS)
April 5, 1998: Rap Queen loves her supporters? (LATIFAHSOLDONADMIRERS)
June 1, 1998: Important element of rap lyrics (RHYME)
February 27, 1999: Hip-hop, e.g. (SUBCULTURE)
March 24, 1999: Pal, rapper-style (BRO)
August 28, 1999: Half of a hip-hop duo (DJJAZZYJEFF)
December 24, 2000: Hip-hop's ___ Kim (LIL)
March 4, 2000: Female rap trio with the #1 hit "Waterfalls" (TLC)
July 24, 2003: 1991 hip-hop hit "___ Suave" (RICO)
September 30, 2004: Offspring of hip-hop stars? (RAPSCION)
November 27, 2004: Popular hip-hop magazine (SOURCE)
May 31, 2006: Hip-hop compliment (DEF)
July 16, 2006: Hip-hop jewelry, in short (BLING)
August 18, 2006: Tiptop, in hip-hop (SOOPA)
December 06, 2006: Hip-hop subgenre (GANGSTERRAP)
January 30, 2008: Coolest, in rap slang (ILLEST)
Aug 27, 2011: Title locale in a 1998 Notorious B.I.G. hit (CALI)
January 7, 2012: Wack, in hip-hop (ILLIN, although this one caused some controversy)
November 3, 2013: Rapper with the 2013 #1 album Born Sinner: (JCOLE)
December 1, 2013: One-named rapper with a hyphen in his name (TPAIN)
June 13, 2014: Rapper with the 2009 hit "Kiss Me Thru the Phone" (SOULJABOYTELLEM)
July 3, 2014: Half of hip-hop's Black Star (MOS DEF)
July 6, 2014: Better to a rapper, worse to a patient (ILLER — "The word has just changed its connotation over time and I wasn't familiar," says Shortz. "Now I know!")
July 9, 2014: Hip-hop's ___ Racist (DAS)
June 16, 2014: Kardashian who married Kanye (KIM)
Thanks to Rex Parker, Crossword Heaven, and WEB's New York Times Crossword Solution for their obsessive cataloguing, and interns Max Cea and Nikki Erlick for the very important research.