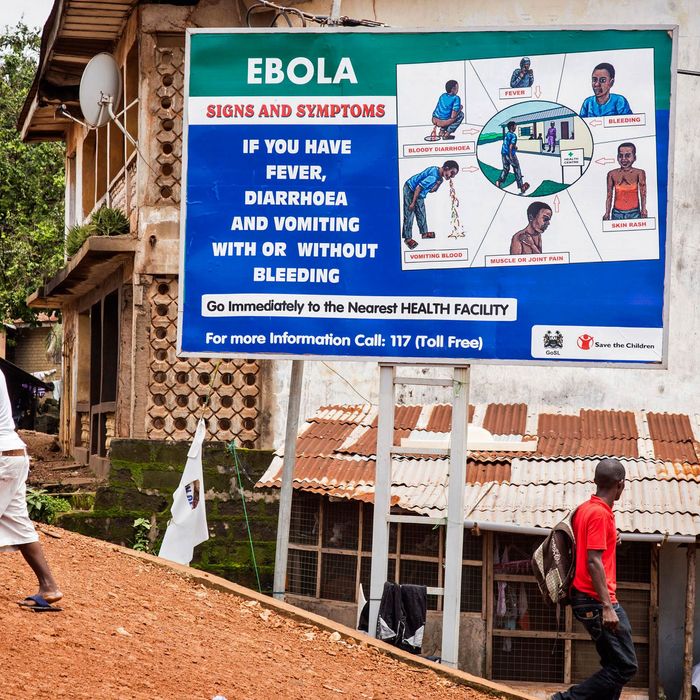 Photo: Michael Duff/? Corbis. All Rights Reserved.
According to the World Health Organization, the Ebola virus has killed 932 people in Guinea, Sierra Leone, Liberia, and Nigeria, and the number of "confirmed, probable, and suspected cases" (not including the fatalities) is now up to 779. Late last week, the WHO declared Ebola an international public-health emergency, but the outbreak remains a distant problem in the United States and much of the developed world. With its audience separated from Ebola by thousands of miles and — much more important — sturdy medical infrastructure, the American media's coverage of the disease is a mix of heartbreaking dispatches from far-away clinics, updates on the apparently effective treatment being administered to the two infected American aid workers now hospitalized in Atlanta, and reminders of how unlikely it is to spread here. Meanwhile, Ebola is becoming part of day-to-day life in West Africa — a terrifying reality reflected by local (English language) news outlets. 
From the Liberian Daily Observer's report a new anti-Ebola rule barring taxi drivers from taking more than three passengers at a time:
Although they met this decision with resentment, the drivers are now comfortably enjoying it. Also coping with and enjoying their ride are the passengers, who say they are no more congested at the back and front of taxi cabs.

"It is good that people can now sit freely in the car without being squeezed by others," said Helen Tucker, a resident of 72nd. "I enjoy my ride every day since [Liberian President Ellen Sirleaf] announced this measure."

…Many people are now suggesting that the measure remains in place after the containment and eradication of the Ebola virus.

"The new government policy is good and we will like for the government to ensure that it remains in place forever. It helps to protect our vehicles. Moreover, we are not losing at all as taxi cab drivers," said Mohammed Sesay, a cab driver.
Also in Liberia, Front Page Africa called out a lawmaker who was photographed checking Facebook during a parliamentary meeting about the Ebola outbreak:
For Representative Lester Paye (IND–District #4 Bong County), what was being discussed, perhaps, is not important [compared] to his discussion on [Facebook], either using the plenary discussion time to chat with his business partner, relatives, or [loved] ones. Like Paye, this is how most of the representation is made by these Lawmakers at the level of the Legislature…Most often, Lawmakers are busy with handheld gadgets and computers given to them by the government, doing issues that are far from legislative works. But at the end of the day, they walk home with big salary at the detriment of the poor who voted them into office to ably represent them.
In Sierra Leone, Awoko newspaper reported on Ebola-related price-gouging:
Before the outbreak of Ebola, [a] small size plastic bucket which was sold for Le 10,000 or Le 15, 000. [It is] now sold at Le 40,000 (forty thousand Leones) with fitted tap head.
 The medium sized bucket that was Le 20,000 (twenty thousand Leones) now goes for Le 75,000 (seventy-five thousand Leones) and the larger size previously sold for Le 40,000 (forty thousand Leones) is now sold for Le 80,000 (eighty thousand Leones) with fitted tap head.
 A  chlorine tablet which was sold at Le 1,000 (one thousand Leones) is now sold at Le 1, 500 for a tablet but because of the soaring demand for this product has caused its scarcity in the market.


People are worried about what they consider "unwarranted" and "inconsiderate" [behavior] of the traders of this country.
 "At the time when it is expected that people should show compassion and care for one another, a set of people are exploiting the situation to enrich themselves from the fears and concerns of the majority. This is wicked!" one woman civil servant told this reporter.
Nigeria's Vanguard newspaper ran an AFP report on the Liberian government's "appeal to Nigerian authorities to protect Liberian citizens in the country from 'stereotyping and harassment' in the wake of the Ebola outbreak." Ebola appears to have arrived in Nigeria via Patrick Sawyer, a Liberian government employee who died shortly after flying into the Lagos airport:
"The attention of our embassy has been brought to several cases of harassment of Liberians especially in Lagos and other places. This harassment borders on stereotyping and sometimes expression of collective guilt," Liberian ambassador to Nigeria, Martin George, said.

"Just because the 'index case' came from Liberia, so 'all Liberians in Nigeria have Ebola'. That is the message and people are being harassed," said the diplomat.

"There are law-abiding Liberians living here in Nigeria who have been harassed. So I appeal for your indulgence as you frame the responses especially on the radio talk shows. People have been making all kind of derogatory remarks that have been brought to our attention," the Liberian diplomat said.
And Liberia's New Dawn newspaper obtained surveillance footage of a visibly ill Sawyer as he waited to board a flight at the Monrovia airport: 
His behavior, among other passengers waiting at the boarding gate was strange. His face bore a sad countenance like someone who was troubled, as he sat alone avoiding body contacts with everyone who came close by him.

His strange behavior and frequent movement up and down as he [awaited] his ASky flight had prompted the security camera operator to focus on him. In the video, Patrick could be seen avoiding physical contacts with airport employees and other passengers during the check in process.

After checking in, Patrick briefings left the terminal, but he would soon be shown sitting in an isolated area by himself at the boarding gate or waiting room. The video footage also shows the late Patrick lying flat on his stomach on the floor in the corridor of the airport a sign of someone in excruciating pain.

This writer, who also watched the video footage of Patrick at the Spriggs Payne Airport said the late Patrick was seen preventing people from touching him. The recording shows him snubbing an Immigration officer who was seen moving straight toward him in a friendly gesture for a handshake as he boarded the flight.
And, finally, the Vanguard reported on Nigerians' reactions to Donald Trump's characteristically awful tweets about the two American aid workers being treated for Ebola in Atlanta:
In reaction, Cool FM on-air-personality Ifedayo Olarinde, popularly called, Freeze, tweeted that Trump was very selfish.

Freeze [added] that Trump's [tweet] just showed he was "a very ignorant man, who has just highlighted his shortcomings; educate yourself about West Africa. it's not all Ebola."

"Bill Gates who is worth 20 times more than you are spends his fortune on Africa while u alienate us," he tweeted.
Like reasonable commentators everywhere, Freeze also noted that Trump is "a very insensitive old man" and "heartless."