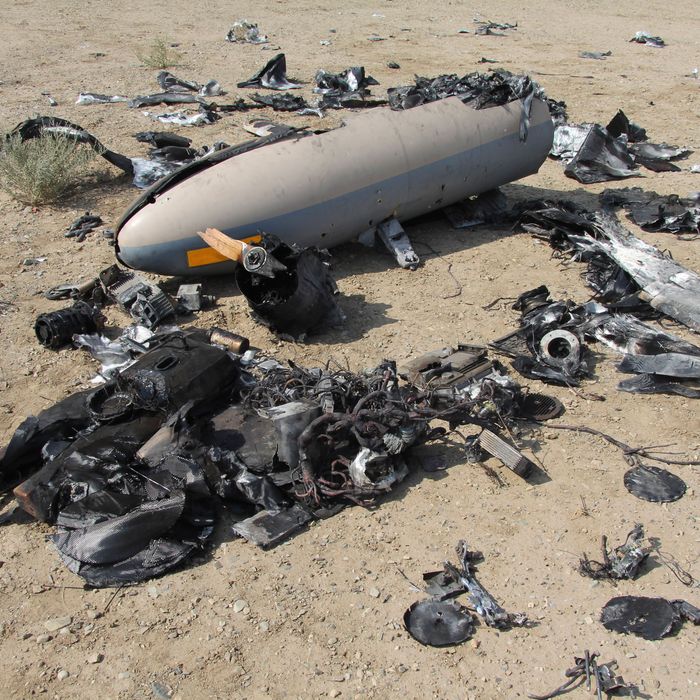 Photo: AP Photo/Sepahnews
Iran claimed to have brought down an Israeli spy drone on Sunday, allegedly on its way to a nuclear facility south of Tehran.
The Islamic Revolutionary Guards Corps supplemented the announcement with a colorful description that "this mischievous act once again reveals the adventurist nature of the Zionist regime and added another black page to this fake and warmongering regime's file which is full of crimes."
The drone was reportedly identified as Israeli model Hermes 450. However, Iran has refused to show the drone to foreign media outlets, and the AP reports that Israeli forces have declined to comment on whether the drone was theirs. Additional questions concern the flying range of the drone: According to both its manufacturer and Iranian estimates, the drone model's flight range is significantly smaller than the distance between Israel and the facility in question.
The New York Times reports that despite these improbable flight ranges, the drone serves a purpose in Iran's internal narrative:
In recent weeks, Iranian officials have said they will never give up the country's extensive missile programs. Such statements are apparently aimed at the demands believed to have been made by world powers seeking a compromise with Iran over its nuclear program. Iranian officials often point out that they have never started a war and are surrounded by enemies; the report about Iran's claim that it had downed an Israeli drone fits their narrative of a nation besieged by outside forces.
And of course, Israeli prime minister Benjamin Netanyahu has been quite outspoken about his mistrust of international measures to curb Iran's nuclear adventures. While last year's tentative international agreement with Iran about its uranium enrichment programs was widely heralded as a positive development, Netanyahu famously called it a "historic mistake" and reiterated Israel's right to "defend itself with its own forces against every threat."