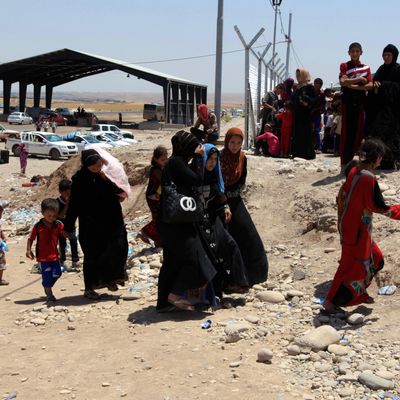 Photo: Pacific Press/Getty Images
Two weeks ago, President Obama announced air strikes in northern Iraq against ISIS. The mission, as Obama explained it at the time, was designed to pursue two very limited objectives: "targeted airstrikes to protect our American personnel and a humanitarian effort to help save thousands of Iraqi civilians who are trapped on a mountain without food and water and facing almost certain death."
Two days ago, when Obama spoke in the aftermath of the brutal beheading of the photojournalist James Foley, his verbal tone was visibly angrier. American officials started speaking of their mission in very different terms.
John Kerry wrote that ISIS "must be destroyed/will be crushed." Then, yesterday, Secretary of Defense Chuck Hagel called ISIS an "imminent threat to every interest we have," while Chairman of the Joint Chiefs of Staff General Martin Dempsey conceded that attacks on ISIS could not be limited to Iraq but would also spread into Syria, parts of which ISIS controls, and which has become a border in name only.
A mission to save a few thousand people and prevent ISIS from overrunning northern Iraq seems to have metastasized into something more like a war. What is going on here? What changed?
One possible explanation is that the visceral horror of ISIS's brutality seized Obama's attention in a new way. ISIS represents depravity on a scale that defies description — it crucifies people, enslaves women, and wallows in brutality. On a human level, it is difficult to contemplate ISIS in a specific way without confronting the urge to destroy it.
A second explanation, which is not mutually exclusive to the first, is that the new Iraqi government has flipped Obama's calculus. Remember, Obama pulled American forces from Iraq because he was exasperated with Nuri Kamal al-Maliki, the Iraqi prime minister, a Shiite who made no pretense of representing the interests of Sunnis and other minorities. Maliki's misrule helped drive Sunnis into the arms of ISIS. Obama was plain about his refusal to let the United States become Maliki's air force.
But now Iraq has a new prime minister, Haider al-Abadi. Abadi may or may not fundamentally change course in a way that could reestablish the government's legitimacy. As the New York Times reports, "Interviews with Iraqi political leaders and foreign diplomats paint a more nuanced portrait, with some holding out hope that he could break the mold of Iraq's recent leaders."
The new regime may well disappoint in the same way the previous one did. In the meantime, the calculus seems to have changed quickly. The conditions that drove Obama to withdraw American support for the Iraqi government no longer apply.