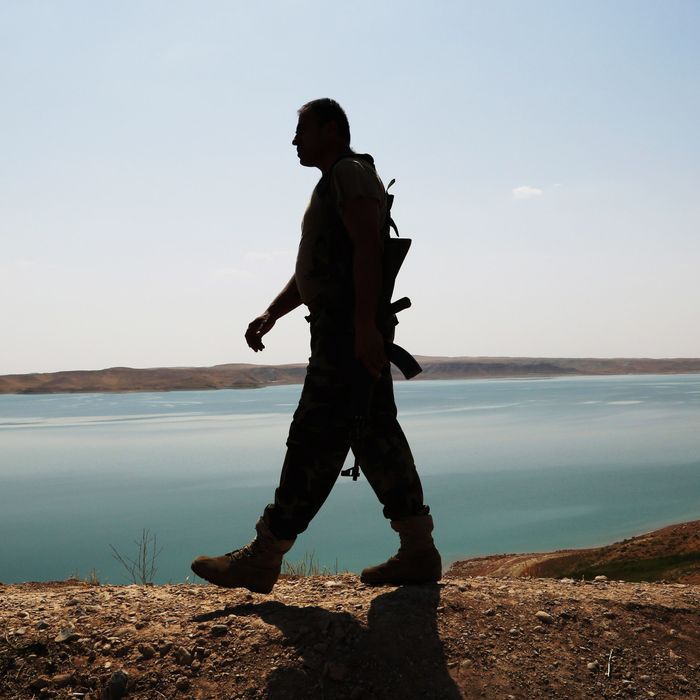 Photo: Khalid Mohammed/AP/Corbis
We may have just avoided a disaster of epic proportions in Iraq. If state sources are to be believed, the country's military joined with Kurdish peshmerga forces to oust ISIS militants from the Mosul dam.
The dam, which also supplies electricity to the city of Mosul, had the potential to release a 65-foot wave over the region — taller than a six-story building. Had the militants decided to do something drastic while in control, it would have been very easy, and very consequential. 
The announcement came from General Qassim Atta, a military spokesman, and the forces are now apparently disarming bombs planted by militants around the facility, which sits on the Tigris river. It's the first major victory for the Iraqi government since ISIS militants overran the country weeks ago, overtaking the country's second-largest city.
Yet after the announcement, a Twitter account purportedly linked to ISIS stated that militants still had full control of the dam. Journalists in the region were not able to get close enough to verify Iraq's claims of taking control.
"[A]s of midday, no photographs or videos had been released showing the security forces inside the dam, and the Kurdish military was preventing journalists from approaching the area and keeping residents from returning to their homes in villages nearby," wrote the New York Times' Azam Ahmed.
The Associated Press says it got in touch with a Kurdish peshmerga leader who said that his troops had to withdraw because of all the explosives planted by militants around the complex. That doesn't sound good.
This news comes amid British announcements that they are no longer conducting a simple humanitarian mission in Iraq, though they wouldn't be getting involved in another full-out war. Prime Minister David Cameron's statement called ISIS "a clear danger to Europe and our security."
As for seizing the dam, it seems that all this speculation is leaving room for only one response: Pics, or it didn't happen.
Update, 4:30 p.m.: Almost-as-good-as-pics evidence for the Iraqi government's claim came in the form of confirmation from President Barack Obama: