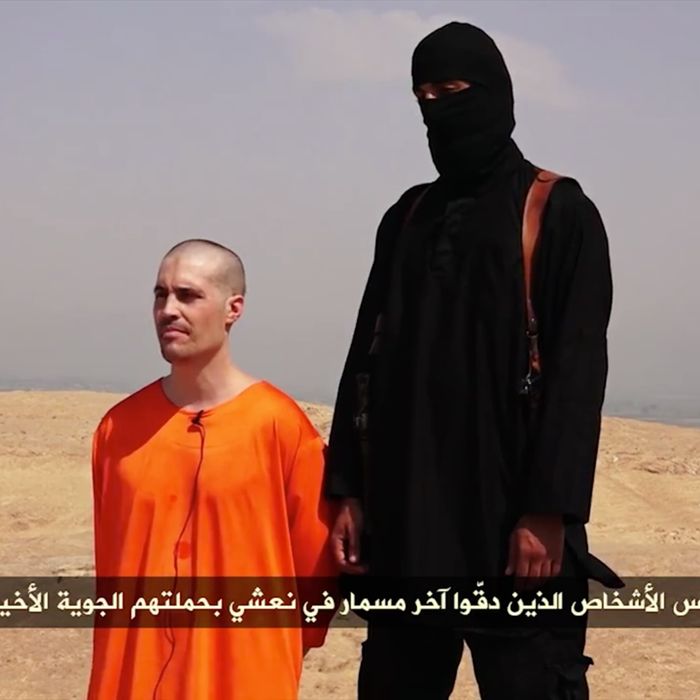 Islamic State militants appear to have killed missing American journalist James Wright Foley, if a video that surfaced Tuesday is to be believed. 
Foley was a freelancer who frequently reported for the Global Post and Agence France-Presse about ongoing conflicts in the Middle East. When Foley first disappeared in Syria, reports indicated that he had been captured by pro-government forces. Instead, it appears that his captors were members of ISIS. He had previously been kidnapped in Libya. 
The video that surfaced Tuesday first shows a clip from President Obama's press conference calling for air strikes against "the terrorist group ISIL." About halfway in, a man believed to be Foley speaks in English to his family. He's on his knees, with an ISIS guard standing over him. In a [likely ISIS-scripted] speech, he blames Obama and the U.S. government for his impending death and implores his family not to take a penny from the government. He then addresses his brother, John, who is in the U.S. Air Force. 
"I died that day, John," he says, referring to U.S. air strikes against the militant group. "When your colleagues dropped that bomb on those people, they signed my death certificate."
When the video reorients itself to focus back on Foley and his executioner, the mike previously hooked up to his shirt is gone. The militant spouts off an angry tirade against the United States, and the camera cuts away after the first few seconds of the beheading. 
At the end of the video, ISIS militants parade another captive journalist, Steven Sotloff, who they threaten will be the next victim if the U.S. government's policy toward the militant group doesn't change.
The video was taken down from Youtube shortly after it was publicized. A HuffPo blogger who claimed to have shared the video apologized for doing so:
As of November 2013, at least 30 journalists were being held captive in Syria. Many more have been killed in the ongoing conflict. 
UPDATE: One U.S. official told the Associated Press that the video appears to be authentic, and two other officials identified Foley as the victim. Diane Foley, the journalist's mother, also confirmed the news in a statement posted on Facebook:
We have never been prouder of our son Jim. He gave his life trying to expose the world to the suffering of the Syrian people.

We implore the kidnappers to spare the lives of the remaining hostages. Like Jim, they are innocents. They have no control over American government policy in Iraq, Syria or anywhere in the world.

We thank Jim for all the joy he gave us. He was an extraordinary son, brother, journalist and person. Please respect our privacy in the days ahead as we mourn and cherish Jim.
President Obama is expected to make a statement about Foley's killing on Wednesday.