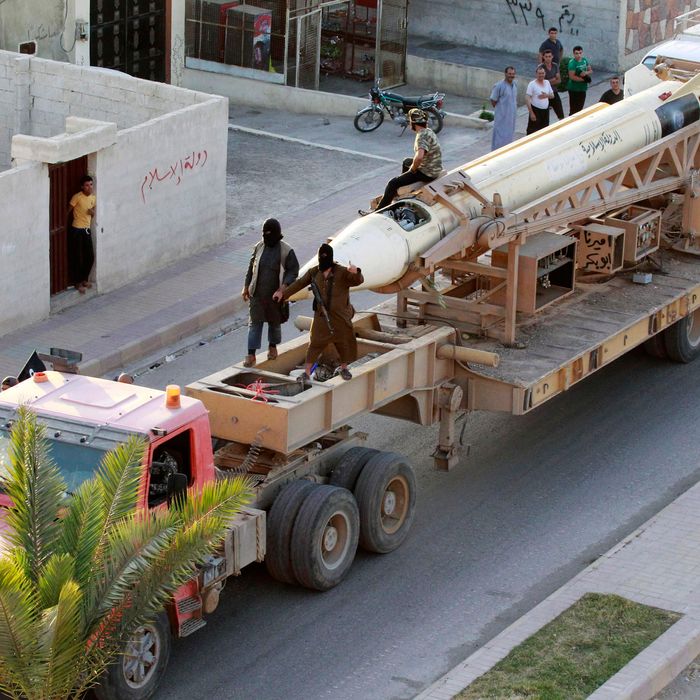 Photo: Stringer/Reuters/Corbis
A laptop purportedly belonging to an ISIS fighter was found by other rebels in Syria, and seems to show that its owner was gathering information to plan biological weapons attacks.
Abu Ali, a commander of a "moderate Syrian rebel group," showed the dusty Dell laptop — obtained after his men took over an ISIS building — to Foreign Policy. (What counts as a "moderate Syrian rebel group" these days? Al Nusra?)
The laptop itself appeared to belong to a young Tunisian chemistry and physics student named Muhammed, whose course work was confirmed to FP by a Tunisian university he attended until 2011. He's one of almost 2,500 Tunisians thought to have moved to Syria to join the ranks of ISIS. 
On it, Foreign Policy's reporters found documents in English, French, and Arabic, stowed away on a non-password-protected hard drive. In addition to the usual videos, bomb-making instruction manuals, and such, the laptop contained an unexpected surprise:
The ISIS laptop contains a 19-page document in Arabic on how to develop biological weapons and how to weaponize the bubonic plague from infected animals.

"The advantage of biological weapons is that they do not cost a lot of money, while the human casualties can be huge," the document states.

The document includes instructions for how to test the weaponized disease safely, before it is used in a terrorist attack. "When the microbe is injected in small mice, the symptoms of the disease should start to appear within 24 hours," the document says.

The laptop also includes a 26-page fatwa, or Islamic ruling, on the usage of weapons of mass destruction.
Well, that's no good, and the writers believe "the longer the caliphate exists, the more likely it is that members with a science background will come up with something horrible." (ISIS does control whole cities with laboratories now, after all.)
At the same time, the U.K. raised its terror alert level to "severe" — a designation indicating a likely terrorist attack. The NYPD, led by commissioner Bill Bratton, said that it's following the developments closely, but, Bratton added, "there is no specific credible threat to New York City."
The remaining question is this: The article states that Abu Ali let FP copy these documents onto an external hard drive. Are the originals, on that laptop, still floating about somewhere in Syria?