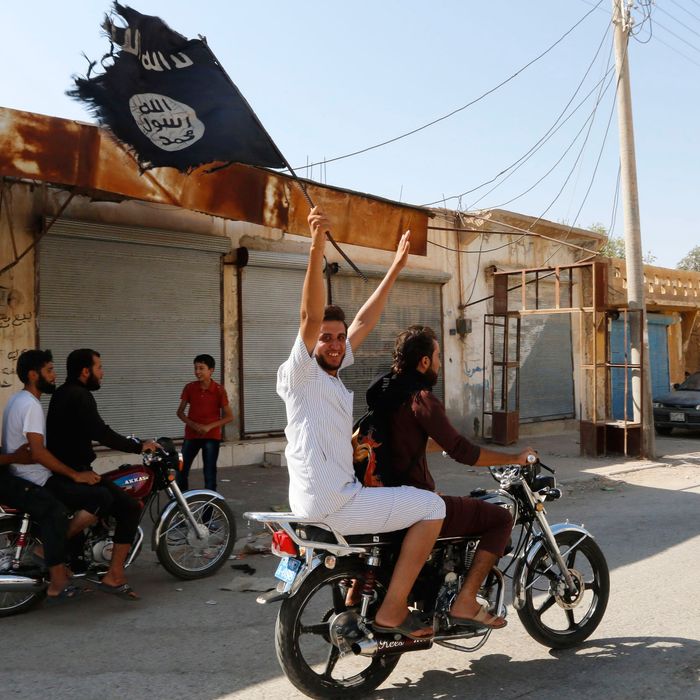 A resident of Tabqa city touring the streets on a motorcycle waves an Islamist flag in celebration after Islamic State militants took over Tabqa air base.
Photo: Reuters/Stringer
In what seems to be another major military victory, ISIS militants say they have finally overtaken one of Bashar al-Assad's air bases in Syria. 
The Tabqa air base, located on the Euphrates river near the Turkish border, and has become a major ISIS target in recent months — so much so that it was the subject of much of Vice's ISIS documentary. The base fell after almost a week of fighting between militants and the government army in what is said to be one of the bloodiest battles of the war to date. 
According to a watchdog group, the Syrian Observatory for Human Rights, 346 ISIS militants and upwards of 170 government soldiers were killed in the showdown. Reuters reports that "fighters displayed the severed heads of Syrian army soldiers in the city square," because ISIS likes its attacks with an extra bit of gore. (Assad's government, though, says his military is "regrouping" and still fighting nearby.)
All this goes to show that ISIS fighters, who just last week beheaded an American journalist, are undeterred by American air strikes in Iraq. Since the video of the beheading appeared, U.S. officials have stepped up their rhetoric on stopping ISIS and have begun discussing expanding air strikes on the group into Syria. 
Of course, Syria knows that its own government is not exactly in the U.S.'s good graces. So when asked for his take on air strikes within Syria's borders, the country's foreign minister Walid al-Moallem agreed — but only "with a prior full coordination with the Syrian government."