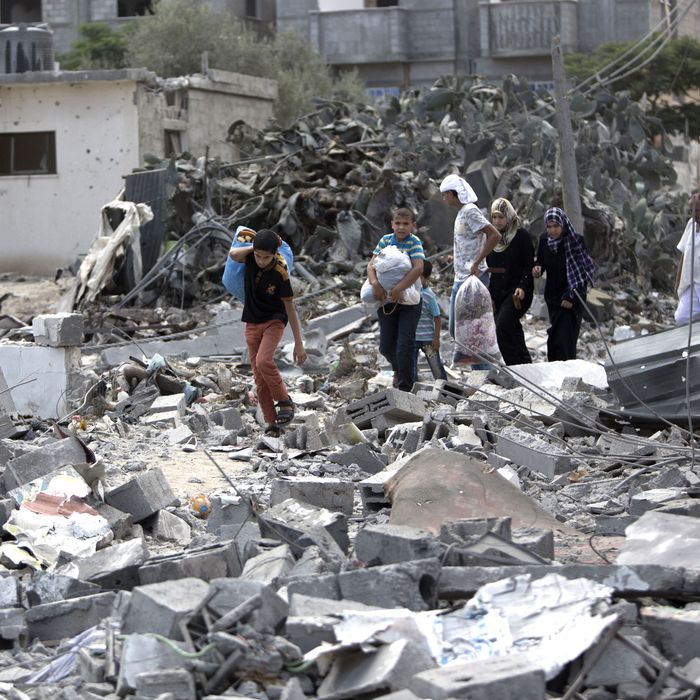 Palestinians carry their possessions as they walk on the rubble of buildings destroyed during the Israeli military offensive, close to the Rafah refugee camp, in southern Gaza Strip, on August 4, 2014.
Photo: Mahmud Hams/AFP/Getty Images
Sunday's Israeli attack on a U.N. shelter in Gaza, which killed at least ten people, was called "horrifying" in a late-night statement from U.S. ambassador Samantha Power, who demanded a "full and prompt investigation." Her comments echoed earlier condemnations from the United States ("appalled," "disgraceful"), the strongest thus far in the three-plus weeks of fighting.
Israel responded by announcing a seven-hour humanitarian cease-fire, only to have it quickly crumble when its air force killed an 8-year-old girl and wounded at least 29 others in a strike on a refugee camp in Gaza City, the New York Times reports. Earlier, Hamas had rejected the partial break as a media stunt. "The unilateral cease-fire announced by Israel is an attempt to divert attention from Israeli massacres," said spokesperson Sami Abu Zuhri. "We urge our people to continue to be cautious."
More than three hours later, there was still no official comment about the strike from the Israeli military, which continued to withdraw many of its ground forces from populated areas in Gaza, about why it struck the house.
At least one Israeli official claimed the strike took place just before the cease-fire was scheduled to begin. According to Reuters, the country added that "four rockets had been fired from Gaza since the truce started and two had crashed inside Israel. There were no reports of casualties or damage."
"If the truce is breached, the military will return fire during the declared duration of the truce," an Israeli official had said earlier. In a statement on Monday, Prime Minister Benjamin Netanyahu added, "Hamas has an interest in Gaza residents suffering, thinking that the world will blame Israel for their suffering." More than 1,800 Palestinians, most of them civilians, have been killed in the offensive so far, along with 64 Israeli soldiers and three civilians.