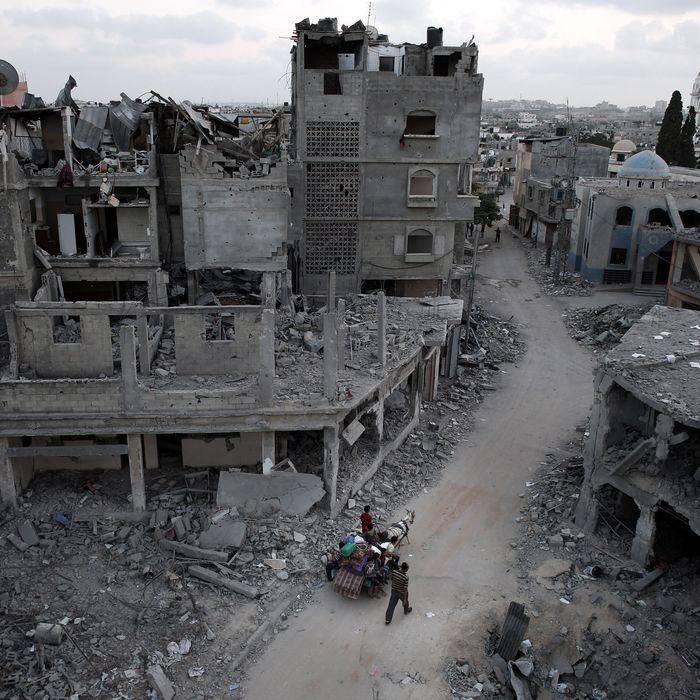 Photo: Thomas Coex/AFP/Getty Images
After two extensions and almost nine days of peace, the cease-fire between Israel and Gaza is over after rockets were launched from the territory at the southern city of Beersheba on Tuesday.
It doesn't seem like a lasting deal was even on the horizon. As the cease-fire got a final 24-hour bump to begin the week, Palestinian officials said that there had been "no progress" toward a long-term agreement. 
As always, at issue are irreconcilable demands, on which both sides are unwilling to budge. Israel's demand that Hamas give up its arms is a non-starter for the country, while Hamas's main ask is a lifting of the blockade on Gaza. Israel has been unwilling to accept that condition, because it claims doing so will open up a greater possibility of arms smuggling for Hamas. In a generous offer last week, the European Union even offered to resume its role as an overseer at Gaza's Rafah crossing with Egypt and at other locations, so that Israel would not have to oversee them.
According to reporting done by Haaretz's Barak Ravid, Israeli Prime Minister Benjamin Netanyahu did not present an Egypt-proposed cease-fire to his cabinet ministers last week. In a rare event, far-right minister Avigdor Lieberman appears to have been the good guy, confronting Netanyahu about the proposal and why he hid it. "I didn't say 'yes' to this draft and for now we do not accept it," Netanyahu apparently told the ministers about the proposal, which reportedly did not adequately quell Israel's security concerns.
Not one to let Netanyahu be the only stubborn leader in negotiations, senior Hamas official Moussa Abu Marzouk recently tweeted that his side "will never cede any" of Israel's demands.
Meanwhile, the civilian death toll of Operation Protective Edge continues to cause international outrage, with over 2,000 Palestinians now reported dead. International observers from Amnesty International and Human Rights Watch, who want to document physical evidence of weapons use by both sides, have encountered roadblocks in entering the Gaza Strip. If they were worried about physical evidence disappearing, well, unfortunately it looks like they'll have plenty more in the coming days.