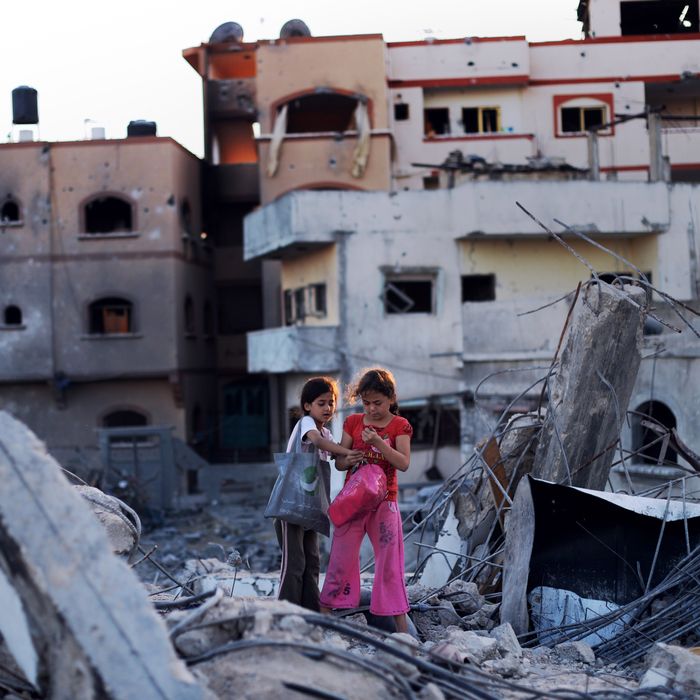 Photo: Roberto Schmidt/AFP/Getty Images
Peace talks between Israeli and Palestinian leaders are holding steady, despite little progress toward a long-term truce. Vastly differing demands on both sides — and skepticism about each other's plans to keep the promises made during negotiations — offer little hope of an agreement any time soon.
The temporary 72-hour cease-fire ran into its second day Tuesday, with no reports of rocket fire from Gaza, or of Israeli attacks on Gaza targets. A similar cease-fire was abandoned after the initial three-day stretch last week.
In Cairo, Palestinian leaders are asking for a lifting of the blockade on Gaza, which Israeli officials worry will allow Hamas access to more materials with which to fight. Yet the AP reports that the Israeli delegation to Cairo has agreed to a number of Palestinian demands, including easing travel restrictions, expanding fishing areas, and allowing in more food trucks. In return, officials in Gaza will have to prove that they have stopped smuggling and manufacturing weapons.
As one senior Israeli official told the AP, the "gaps between the sides are big."
One of the key objectives for Hamas is the development of a long-planned seaport, started in 2000 but later destroyed by Israeli forces. Speaking with the New York Times, an Israeli official was skeptical: "Why does he want to have his own port? So he can bring in military equipment," said the official of Hamas leader Khaled Meshaal.
Yet even as progress seems possible in peace talks, international activists are trying to speed up the opening of Gaza's ports by sending in another international flotillas this year. The flotillas, which happen every couple of years, are groups of ships purportedly bringing medical supplies and food to Gaza in an attempt to break the Israeli naval blockade on the Strip. One of the most bloody attempts occurred in 2010, when the IDF killed nine Turkish members on one boat of a six-ship flotilla, which attempted to forcefully resist Israeli interference. Relations between the two countries are still recovering.
Like the one in 2010, this flotilla will come from the IHH Humanitarian Relief Foundation, a Turkish NGO, complete with very concerned activists from 12 countries. The group, part of the Freedom Flotilla Coalition (which describes itself as "a grassroots people-to-people solidarity movement composed of campaigns and initiatives from all over the world working together to end the siege of Gaza"), told Reuters that this is being organized "in the shadow of the latest Israeli aggression on Gaza."
Of course, since the seven-plus-year blockade of Gaza is a handy bargaining chip for Israel, we can already tell you how this will likely go: Tensions will flare as the ship(s) near Gaza, refusing to be inspected by Israeli forces. Eventually, the IDF will raid them. There may be casualties. And inevitably, the "humanitarian mission" will set back peace talks even further because this will be touted as another show of Israeli aggression.
Looks like we've got a lot to look forward to before the year runs out.