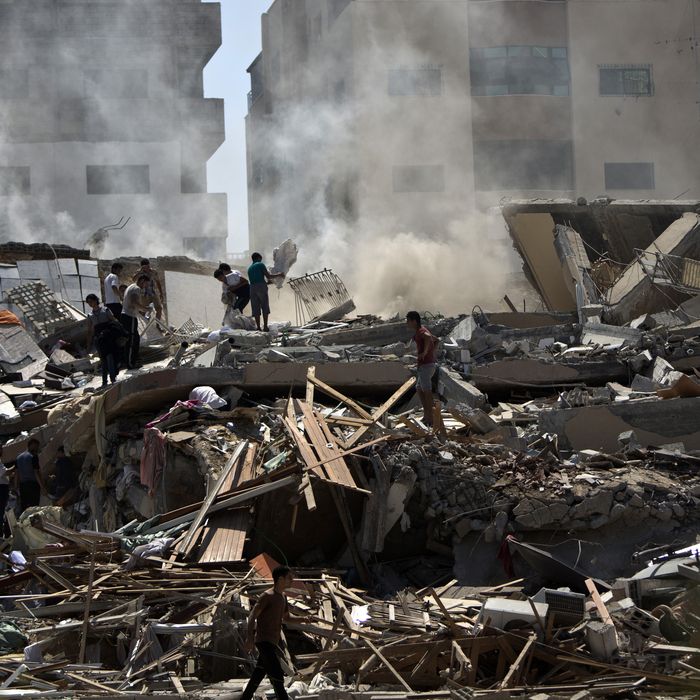 On Saturday, an Israeli missile leveled a 42-apartment, 13-story residential building — the largest structure destroyed so far in the Gaza war, according to Reuters. The New York Times reports that 10 people were injured in the attack, while Reuters says it was 17. The strike came one day after a mortar fired from northern Gaza killed a 4-year-old boy on a kibbutz in southern Israel.
The Israeli military said that it destroyed the building because it contained a Hamas command center, though spokesman Lt. Col. Peter Lerner "could not immediately specify which floor, or floors, of the building were the targets in the attack, or whether the intention had been to destroy the whole tower," according to the Times. Residents denied that Hamas had been working out of the building.
Residents said they received an alert from Israel 20 to 30 minutes before a drone dropped a "warning" rocket on their home. A warplane filled with non-warning weapons arrived shortly after. Text messages, voice mails, and leaflets distributed by Israel also warned that it would target anything "from which terror activities against Israel originate."
Israel hit several other targets in Gaza over the weekend, including two homes and a commercial center. Ten Palestinians were reportedly killed in those attacks.
Meanwhile, Gaza militants fired over 100 rockets and mortar rounds toward Israel on Saturday and Sunday, with two of the rockets reaching the Tel Aviv area. One of those was intercepted by the Iron Dome, while the other landed on the ground, injuring no one. A rocket launched from southern Lebanon — likely by a Palestinian group based there — damaged a house in northern Israel.
Since the latest cease-fire ended on Tuesday, Egypt has continued to call for both sides to return to peace talks. But with Israel and the militants both upping their respective levels of aggression, that seems unlikely to happen any time in the immediate future.