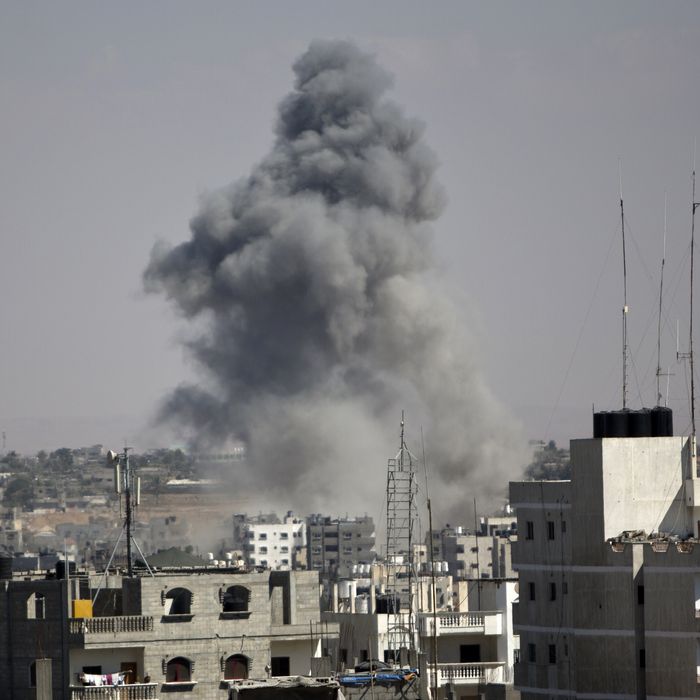 For the third time in 10 days, an Israeli strike has hit a United Nations school serving as a shelter for displaced Palestinians in Gaza. According to the Gaza Health Ministry, 10 people were killed and dozens injured when a missile exploded near a school in the city of Rafah. (According to the Guardian, the dead included a 10-year-old boy and a 13-year-old boy who had been selling snacks.) Witnesses said that the missile's target seemed to have been two people riding a motorcycle past the building. But Robert Turner, the head of Gaza's U.N. Relief Works Agency, told The Wall Street Journal that the Israeli military had been given the facility's coordinates 33 times. "Why shoot them there if they were in front of a school?" he asked. 
U.N. Secretary General Ban Ki-moon condemned the attack, which he described as a "moral outrage," a "criminal act," and a "gross violation of international humanitarian law." "Israel Defence Forces have been repeatedly informed of the location of these sites," he noted. The United States also issued a statement saying it was "appalled" by the deaths and injuries at the shelter: "We once again stress that Israel must do more to meet its own standards and avoid civilian casualties," it said. The New York Times reports that a total of 71 Palestinians were killed in Gaza on Sunday. 
Meanwhile, the Israeli military confirmed that 23-year-old Second Lt. Hadar Goldin, the solider who was thought to have been kidnapped last week, is dead. Army spokesman Lt. Col. Peter Lerner said that some of Goldin's remains were found among those of two other soldiers killed during a Friday fight between Israeli troops and Palestinian militants who emerged from a tunnel in Israel. "We can't determine if he was killed on the ground or from the blast," said Lerner. "The indications on the ground are that he was killed in the initial attack."
The Times notes that, during the Friday incident, "Israeli forces immediately used a protocol for captured soldiers known as 'Operation Hannibal' to pursue the Hamas squad into the tunnel and try to cut off any possibility of escape. Hannibal includes intense pursuit and an option to engage the enemy 'even at risk of the soldier,'" according to Lerner.  
Israel's defense minister, Moshe Yaalon, also confirmed that Goldin was his second cousin. That information was censored by Israel before it became clear that he had been killed. 
On Saturday night, Prime Minister Benjamin Netanyahu said that Israel "will take as much time as necessary, and will exert as much force as needed" as it continues its operations in Gaza. On Sunday, Lerner said that troops were almost finished destroying the tunnels running from Gaza into Israel. "We've caused substantial damage to this network to an extent where we've basically taken this huge threat and made it minimal," he said. 
Later in the day, Israel pulled most of its troops out of Gaza, suggesting that the almost monthlong war — which has killed 60 Israelis and 1,800 Palestinians — might finally be winding down. But while Israel seems to be ending its ground operation in Gaza, it still intends to respond to rocket fire coming from the area. "It's not a withdrawal," said Israeli Cabinet minister Amir Peretz. "It's setting up a new line that is a more controlled line with the air force doing its work."