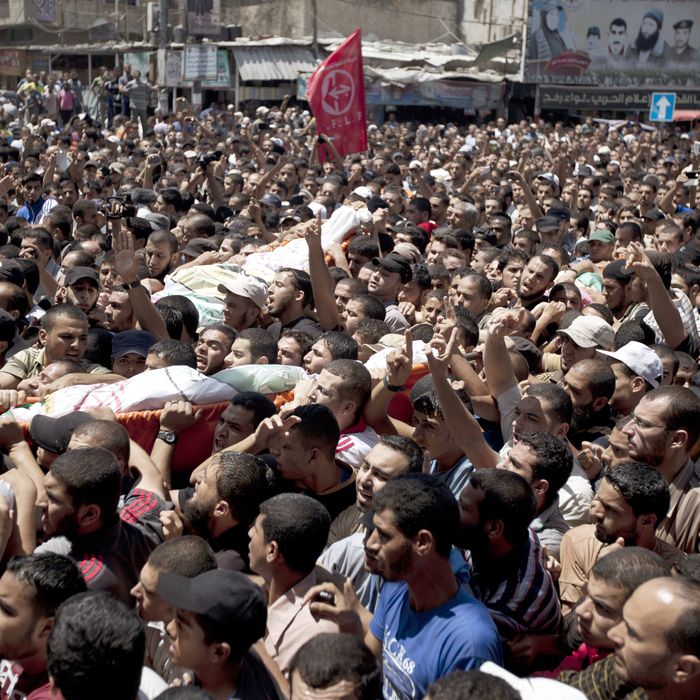 Photo: Mahmud Hams/AFP/Getty Images
Israeli forces had a day of successful air strikes Thursday, killing three senior Hamas officials just a day after the organization claimed responsibility for the kidnapping of three Israeli teens. 
The strikes targeted leaders of Hamas's armed wing, the al-Qassam Brigades. According to Hamas, the strikes killed Mohammad Abu-Shamalah, Raed al-Attar, and Mohammed Barhoum, all highly sought by Israeli forces. The IDF initially only confirmed the deaths of Abu-Shamalah and al-Attar, but later confirmed that Barhoum had been killed as well.
"Raed Attar played a major role in tunnel infiltrations, terror attacks that killed Israelis, and the kidnapping of [Israeli soldier] Gilad Shalit. Abu Shamala, commander of Hamas forces in [southern] Gaza, was directly involved in dozens of terror attacks, including the murders of IDF soldiers," said an IDF statement. 
According to the New York Times, this was "the most significant blow to the group's leadership since Israel's operation in Gaza began more than six weeks ago."
A strike earlier this week targeted al-Qassam Brigades leader Mohammed Deif. It killed his wife and infant son, but Hamas denies that Deif was also killed.
These triumphs against the Qassam Brigades leadership came just a day after Hamas's Saleh al-Arouri claimed responsibility for the kidnapping and deaths of Israeli teens Eyal Yifrach, Gilad Shaer, and Naftali Fraenkel. "The popular will was exercised throughout our occupied land, and culminated in the heroic operation by the Qassam Brigades in imprisoning the three settlers in Hebron," al-Arouri said at a conference in Istanbul. "This was an operation from your brothers in Qassam undertaken to aid their brothers on hunger strike in (Israeli) prisons."
The circumstances of the incident, which sparked Israel's Operation Protective Edge, have been subject to much debate. Israel immediately blamed the militant group, which controls the Gaza strip, but Qatar-based Hamas leader Khaled Meshaal denied that the group's involvement. Veteran correspondents Jon Donnison and Sheera Frenkel both reported that Israeli intelligence had no concrete links between Hamas and the kidnappers, who are said to belong to a clan that frequently operates outside of Hamas control. Yet later, Israeli officials said they had concrete evidence of the link between the group and the kidnapping.