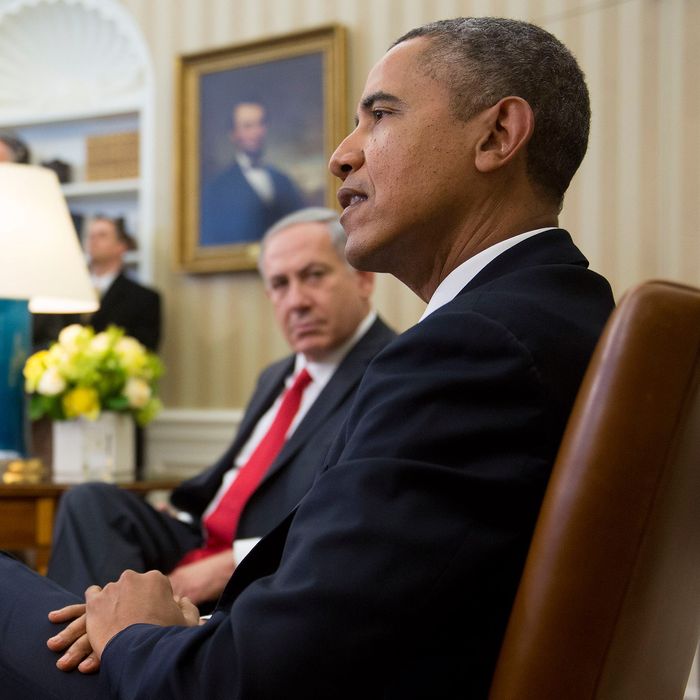 Photo: Andrew Harrer-Pool/Getty Images
The peace process between Israel and Gaza has been upstaged once more, this time by frustrated U.S. officials who discovered that Israel has quietly been obtaining American munitions by going through military-to-military channels, without direct approval from Congress or the White House. They moved to swiftly shut that down, overshadowing news of a five-day cease-fire extension agreed upon Israeli and Palestinian negotiators in Cairo.
As The Wall Street Journal reports, U.S. officials had been growing increasingly concerned about the civilian toll of Operation Protective Edge in Gaza, particularly in light of the UNRWA school shelling. Imagine their surprise, then, when they found out that Israel had requested mortar shells and other weapons through military-to-military channels ahead of the incident. A diplomat said officials were "blindsided," though a defense official said that the request had been approved through all the required channels.
Officials subsequently found out that the Pentagon's Defense Security Cooperation Agency was on the verge of releasing an initial batch of Hellfire missiles to Israel through those same channels. They immediately suspended that shipment.
A senior White House official said that more than "check-the-box approval" is required for such releases, this being a time of war and such.
Going forward, the Journal reports, such weapons requests will have to get individual approval from the White House and State Department.
This move is just the latest manifestation of the open tension between the White House and Israeli Prime Minister Benjamin Netanyahu — a recent lowlight was the apparent leak by the Israeli government of John Kerry's peace proposal — and certainly suggests that discord is only deepening. But an Israeli official told the Journal that things are even worse than they appear.
"We've been there before with a lot of tension with us and Washington. What we have now, on top of that, is mistrust and a collision of different perspectives on the Middle East," the official said. "It's become very personal."