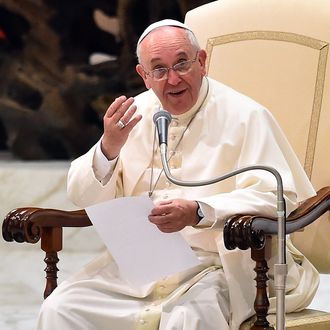 Photo: Gabriel Bouys/AFP/Getty Images
The cold-call pope has struck again, this time to comfort the grieving family of slain journalist James Foley.
Everyone's favorite pontiff called the family on Thursday, talking to them for about 20 minutes through a translator. A family friend (who also happens to be a New Hampshire priest) said Pope Francis was "very compassionate, very loving."
The pope has developed a reputation for taking it upon himself to call up people in need, phoning everyone from divorcees to a woman having a child out of wedlock. So after a video of Foley being killed by ISIS militants surfaced on Tuesday, it's perhaps only logical that the pope would call the journalist's parents. After all, the 40-year-old reporter was a devout Catholic, according to reports.
Foley wrote about the power of prayer after his earlier kidnapping in Libya:
Myself and two colleagues had been captured and were being held in a military detention center in Tripoli. Each day brought increasing worry that our moms would begin to panic. My colleague, Clare, was supposed to call her mom on her birthday, which was the day after we were captured. I had still not fully admitted to myself that my mom knew what had happened. But I kept telling Clare my mom had a strong faith.

I prayed she'd know I was OK. I prayed I could communicate through some cosmic reach of the universe to her.

I began to pray the rosary. It was what my mother and grandmother would have prayed. 
I said 10 Hail Marys between each Our Father. It took a long time, almost an hour to count 100 Hail Marys off on my knuckles. And it helped to keep my mind focused.

Clare and I prayed together out loud. It felt energizing to speak our weaknesses and hopes together, as if in a conversation with God, rather than silently and alone.