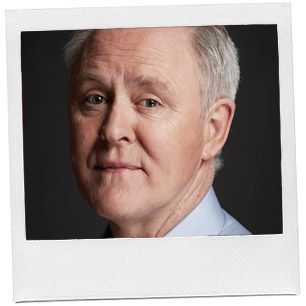 Name: John Lithgow
Age: 68
Neighborhood: Upper West Side
Occupation: Actor. Starting August 22, you can catch him on the big screen in Love Is Strange, alongside Alfred Molina. In the fall. see him on Broadway with Glenn Close in Edward Albee's A Delicate Balance.

Who's your favorite New Yorker, living or dead, real or fictional?
Chita Rivera, I've decided. She just is pure theater: the biggest smiles, the biggest hugs. She just makes me very happy to be in the profession.


What's the best meal you've eaten in New York?
An anniversary dinner with my wife at Blue Hill.

In one sentence, what do you actually do all day in your job?
I either rehearse or I perform … that is when I have a job.

What was your first job in New York?
Trying to sell dance subscriptions at BAM over the telephone. I never sold one.

What's the last thing you saw on Broadway?
A Gentleman's Guide to Love and Murder, which I adored.

Do you give money to panhandlers?
Sometimes. That's a tough one. I guess it's chemical, whether I think the time is right for both them and me.

What's your drink?
Single-malt Scotch, at the moment Ardbeg. I'm not a connoisseur; the brand switches out whenever. This one was as gift from someone who knows a lot about single-malt scotch. He was right.

How often do you prepare your own meals?
I would say 65 percent of the time. I'm serviceable — I'm pretty good. When I'm working hard, I cook meals in slow-cookers so it's waiting for me when I get home. But I'm good at 20-minute meals, too, from years of coming home and cooking for my kids and my wife.

What's your favorite medication?
Well, these days, since I'm playing King Lear, I would have to say Motrin.

What is the best thing in or about your apartment?
The oblique views of Central Park.

What's the craziest thing you've ever seen on the subway?
Those guys who do the upside-down pole dancing fully clothed, with their feet flying round at eye level. Everyone completely ignores it and it's really amazing. I did see one astonishing thing back in the '70s: There was a fight on one end of the subway, and I've never seen anything like that — a fight that suddenly flashed, like dynamite going off, and the entire crowded subway all swept to the other end of the train to put some distance between them. It was like the oceans parting.

When was the last time you stayed out past 3 a.m.?
I'm literally too old to remember. I suppose it's night-shooting on films, but I'm certainly not good at it. I've never stayed out beyond 3 a.m. for pleasure in the past 40 years.

Which do you prefer, the old Times Square or the new Times Square?
I would have to say the old Times Square. The '70s were my most intense and sustained period working in New York theater and I'm extremely nostalgic about that, even though it was a real snake pit back then.

What do you think of Mayor de Blasio?
Well, I'm delighted that this Mayor is taller than I am. It's like the world has finally come to its senses.

What do you hate most about living in New York?
The fact that I live most of the year in Los Angeles.

If you could banish one person from New York forever, who would it be?
If I could banish one person from New York, I wouldn't. There's nobody I have that much negative feeling about.

When's the last time you drove a car?
It would have to be before I came to New York to start rehearsing King Lear, because I certainly haven't driven a car since I arrived. You walk in New York and you drive in L.A.; it's as simple as that.

Finish this sentence: The NYPD _____.
Seems to me like a fairly decent bunch of people. I don't know, I suppose I'm in a comfortable enclave on the Upper West Side of Manhattan but every cop I meet, I'm glad to meet.

Times, Post, or Daily News?
Times.

Where do you go to be alone?
A park bench in Central Park. And the Ladies Pavilion — I'm a little embarrassed to say that. I probably shouldn't mention it because it'll spoil it for me, but the Ladies Pavilion sits on the Central Park lake, right behind all those great big rocks, and it's the most private spot I've found in the park. I don't know why they call it the Ladies Pavilion — it suits me just fine!

What makes someone a New Yorker?
I think just an appetite for everything. I remember a wonderful ad campaign for New York Magazine from a few years ago, posters in subway that said "I'd leave New York, but I'm afraid I'll miss something." That, to me, is the perfect quote for a New Yorker. I just feel like whenever I'm not here, I'm missing something essential.