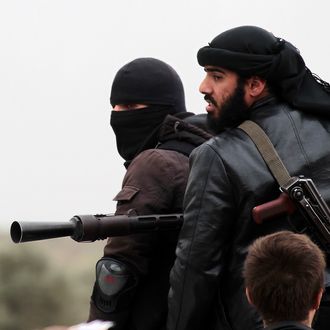 Just days after ISIS's horrifying murder of James Foley, another American journalist held captive in Syria is on his way home. Peter Theo Curtis, a freelancer and author who disappeared in a Turkish town near the Syrian border in October 2012, was handed over to United Nations peacekeepers in the Golan Heights on Sunday. In a statement, John Kerry said that the 45-year-old was kidnapped and held by Al Qaeda's Syrian franchise, the Nursa Front. (ISIS used to be part of the Nursa Front, but the groups split several years ago, partially because because Al Qaeda's leadership found ISIS's tactics to be too brutal.) "Over these last two years, the United States reached out to more than two dozen countries asking for urgent help from anyone who might have tools, influence, or leverage to help secure Theo's release and the release of any Americans held hostage in Syria," said Kerry.
In a statement expressing gratitude for her son's release, Curtis's mother, Nancy, indicated that the Nursa Front had not received a ransom. "While the family is not privy to the exact terms that were negotiated, we were repeatedly told by representatives of the Qatari government that they were mediating for Theo's release on a humanitarian basis without the payment of money," she said, according to the New York Times.
Curtis had been featured in at least two videos released by the Nursa Front and subsequently obtained by several news outlets. In one, he had a gun pointed to his head and pleaded for some kind of intervention, saying that he had only three days left to live. In later footage, Curtis claimed that his treatment had been "perfect," complete with "food, clothing, even friends now." Unsurprisingly, Matthew Schrier, an American photographer who was held with Curtis until he managed to escape in July of last year, has said that he and his fellow prisoners were, in fact, frequently tortured and starved.
The Associated Press reports that Curtis has been given a medical checkup and brought to Tel Aviv. "He seems to be in good health," said one of his cousins in an interview.