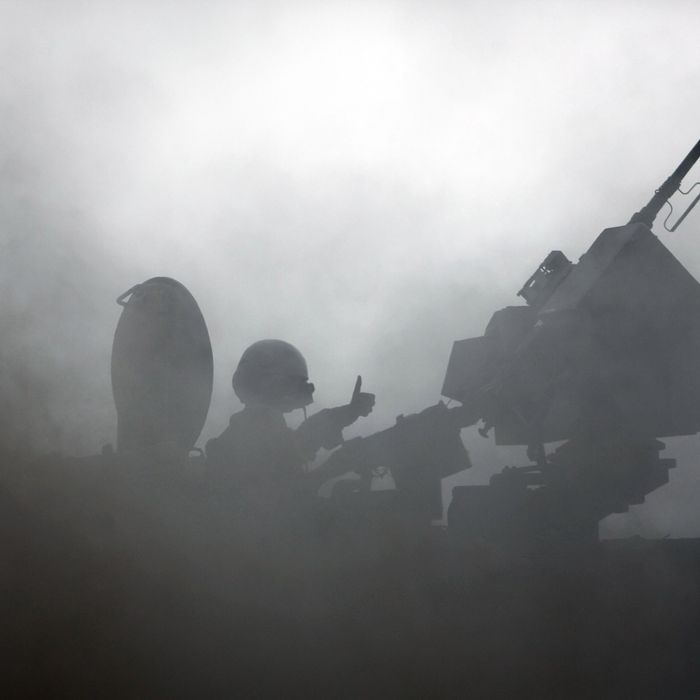 Photo: David Buimovitch/AFP/Getty Images
Friday's short-lived cease-fire in Gaza — scheduled to last 72 hours, but in reality lasting barely 72 minutes — was in many ways typical of the way things are unfolding during Operation Protective Edge. In the days since the start and end of that botched temporary agreement, 130 Palestinian civilians in Rafah have been killed in the search for a soldier who was believed to be kidnapped. The actual chain of events turned out to be far more convoluted.
Most agree about how the incident began: At around 9:30 a.m. local time on Friday, Hamas militants jumped out of a tunnel and began firing at Israeli soldiers. What happened next, though, is crucially important. Early reports indicated that one of the attackers was wearing a suicide belt; two Israeli soldiers were killed in the attack and a third was considered missing. Reports said he was likely kidnapped. (Hamas initially wavered on whether or not it had kidnapped the soldier.)
The scheduled cease-fire was canceled immediately. Israeli soldiers followed escaping militants into the tunnel, tracking it to various ends, including one inside a mosque. They then launched into the Hannibal Directive, a 1986 protocol that indicates kidnapped soldiers must be retrieved at all costs — including damage to the soldier himself. According to the directive, collateral damage is acceptable in order to prevent a kidnapping, which have been very costly for Israel in the past. (In 2011, Israel traded over 1,000 Palestinian prisoners for soldier Gilad Shalit.) But even with the aggressive tactics, the IDF failed to find its man, coming away with only some "personal effects" belonging to the captured soldier.
Identified as Second Lieutenant Hadar Goldin of the Givati infantry brigade, one half of a set of twins serving in Gaza, the release of the missing soldier's name only served to complicate events further. Immediately, rumors started swirling about his possible relation to Israeli Defense Minister Moshe Ya'alon. Others refuted those rumors:
The New York Times reported that the paper had been notified that all information about Goldin would have to go through an Israeli media censor, "the first such notification in more than six years."
U.S. officials, meanwhile, quickly condemned the kidnapping. "Hamas, which has security control over the Gaza Strip, must immediately and unconditionally release the missing Israeli soldier, and I call on those with influence over Hamas to reinforce this message," said Secretary of State John Kerry. Hamas redoubled on denying they had Goldin by Friday afternoon, but at a press conference, President Obama referred to the soldier simply as "abducted."
It wasn't until the following night that the IDF tweeted the opposite. Something found in the tunnel right after the attack — some of Goldin's "personal effects" — indicated that he was dead all along. He had been killed in action.
An IDF report also questioned the earlier claims of a suicide belt, saying the terrorist closest to the troops "simply continued firing his rifle until he was killed." But Goldin was, as it turns out, a cousin of Defense Minister Ya'alon's.
Meanwhile, Haaretz summarized the attack on Rafah in the course of the search, which killed 130 people and wounded hundreds more:
This included a tank battalion and an infantry battalion, which helped search for additional tunnel shafts. These forces also laid down heavy fire "from all directions," including tank shells, artillery bombardments and air strikes, in an effort to isolate the area where Goldin was thought to be, block all access routes to and from it and thereby ensure that nobody could either enter or leave without the soldiers noticing, the IDF source said. This was in line with the Hannibal procedure, which one senior officer said is meant to ensure that "every effort to locate the kidnapped [soldier] and the kidnappers" is made.