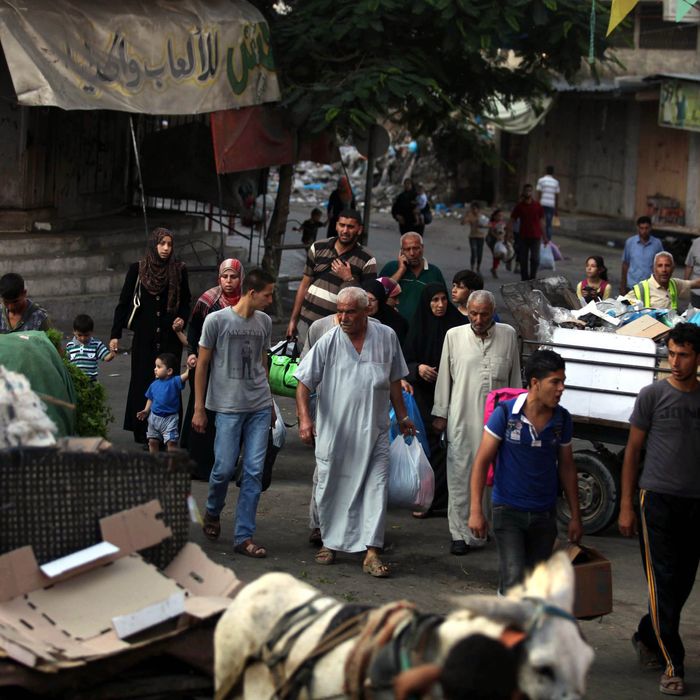 Palestinians flee homes as Israel resumes airstrikes on Gaza with the expiry of the three-day cease-fire on August 8 in Gaza Strip.
Photo: Anadolu Agency/2014 Anadolu Agency
Failure to extend a three-day stretch of relative peace in Gaza resulted in another civilian death on Friday morning as Israel responded to Hamas rocket-fire with airstrikes. "Ibrahim Dawawsa, 10, was killed in a strike from an Israeli drone as he played in the yard of a mosque in the Sheik Radwan neighborhood of Gaza City, according to his brother, Zuheir, 19," the New York Times reports.
(Warning: Graphic photo.)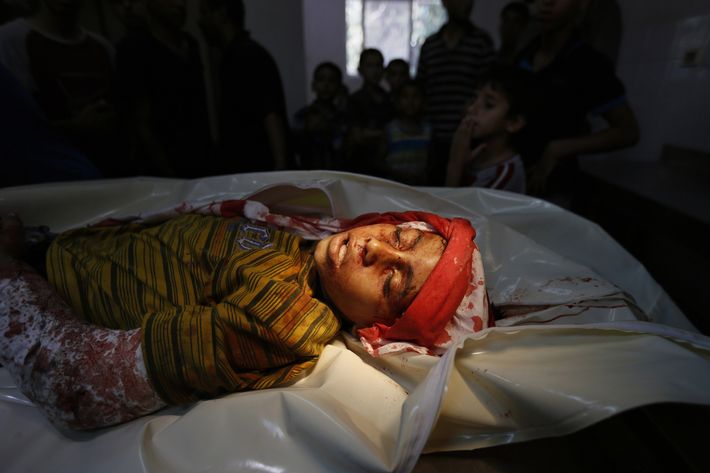 At least six others were wounded, according to Al Jazeera. Israel has counted more than 30 rockets fired in its direction since the cease-fire ended at 8 a.m., strikes that injured one soldier and one civilian and damaged at least one building.
Indirect negotiations in Cairo continued well into last night, but ultimately got nowhere as Israel said it was ready to extend the truce but Hamas balked. "We will continue negotiations," said a Hamas spokesperson, but renewed fighting made the possibility of extended resolution seem remote once again. "Israel will not hold negotiations under fire," said the government in a statement.
"The renewed rocket attacks by terrorists at Israel are unacceptable, intolerable and shortsighted. Hamas's bad decision to breach the cease-fire will be pursued by the I.D.F.," added Lieutenant-Colonel Peter Lerner. "We will continue to strike Hamas, its infrastructure, its operatives, and restore security for the State of Israel."