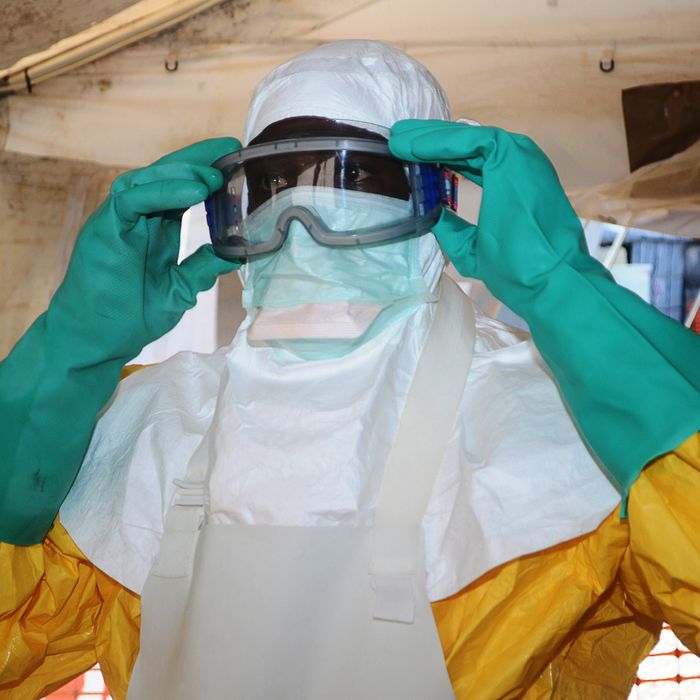 Photo: Cellou Binani/AFP/Getty Images
Ebola-ravaged countries are taking a more radical approach to containing the epidemic: Liberia and Sierra Leone have enlisted soldiers to block off sections of the country in a forceful effort to limit contact between affected and unaffected populations. Together, the two nations have hosted 71 percent of the cases in this Ebola outbreak.
According to The Wall Street Journal, only those responding to medical needs will be able to enter or exit the two most devastated districts in Sierra Leone. The roads are blocked by soldiers. The president of Liberia has declared a state of emergency, and eight highly affected districts will have checkpoints put in.
"The scope and scale of the epidemic, the virulence and deadliness of the virus now exceed the capacity and statutory responsibility of any one government agency or ministry," explained Ellen Johnson Sirleaf. "Ignorance and poverty, as well as entrenched religious and cultural practices, continue to exacerbate the spread of the disease."
Meanwhile, a global health expert told the Huffington Post that there is no good plan to contain Ebola and that the epidemic was "out of control."
"People believe that there's a giant World Health Organization office in Geneva stocked full of specialized equipment and talented health care workers," said Laurie Garrett of the Council on Foreign Relations. "Not only do we not have any such thing — the WHO is essentially bankrupt."
The Centers for Disease Control has activated the highest possible alert level for this Ebola outbreak and is sending staff to impacted nations to help control the spread. At least 30 affiliates are already in the zone of impact, with many more to be deployed shortly. 
But many of the reasons why this outbreak is spreading so rapidly and is so hard to curtail are difficult to address. Writing for the Washington Post, Michael T. Osterholm noted that this area hasn't been struck with the disease before:
Relatives may have extensive contact with an infected person before he or she dies, or they may help prepare the body for burial. Funeral traditions in Africa frequently involve washing the body before it is buried, which can mean contact with blood and other infectious bodily fluids. Public health workers haven't been able to curtail this traditional practice; it's a challenge that puts religious and cultural beliefs in direct conflict with infection control. Moreover, this is the first time that this part of Africa has experienced an Ebola outbreak, so there is no collective memory of what to do to stop the virus.
Checkpoints and armed guards won't be able to change these practices, either. But they may just help stop the spread.