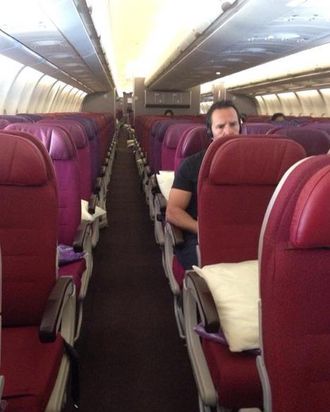 Photo: Ricardo Goncalves/Twitter
Odds are, if you fly Malaysia Airlines, you'll be just fine — and probably get your seat upgraded for free. But after the loss of two commercial jets this year, including the still-unsolved disappearance of Flight 370 and the rocket attack on MH17 over Ukraine, try telling that to actual travelers.
"The southeast Asia air carrier burns its cash reserves at nearly $2.16 million each day. Operations are losing about $1.6 million a day," according to one estimate. Fares are bargain-bin low, Mashable reports, while Australian travel agents have seen their commission offers nearly double if they can sell the unsellable. And as if public perception of the airline weren't bad enough already, people have taken to posting photos of empty flights on social media.
Tweets aside, the business reality is dire, according to today's Wall Street Journal:
Malaysia Airlines is likely to cut a quarter of its staff and stop flying to some cities in China and Europe as a part of the embattled flag carrier's revival plan that may be announced later this week, according to people familiar with the proposals. […]

"We believe our national carrier must be renewed. This means wholesale change, to deliver a wholly different outcome," [Malaysian Prime Minister Najib Razak] said this month. The airline's overhaul "will involve painful steps and sacrifices from all parties," he said, adding, "Only through a complete overhaul of the company can we deliver a genuinely strong and sustainable national carrier…Piecemeal changes will not work."
And the photographic evidence, while anecdotal, is not pretty (unless you're bravely rational and enjoy complimentary Champagne):