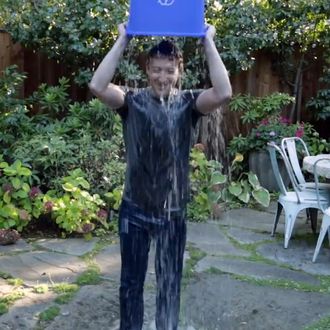 Facebook co-founder Mark Zuckerberg is worth a cool $32.5 billion, so it's a relief that he didn't have to scrounge around under the seats of his Tesla to come up with $100 to donate to ALS. 
Yesterday, New Jersey governor Chris Christie nominated Zuck to participate in the ice-bucket challenge, a viral charity event where users challenge each other to pour a bucket of freezing ice water over their heads or donate $100 to a charity that supports ALS research (or do both). Last night, Zuck posted a video of himself participating in the challenge, allowing him to narrowly escape the harrowing task of writing a check for $100. Phew, that was close.
Zuck nominated Sheryl Sandberg, Reed Hastings, and Bill Gates to participate in the challenge. Pray that these struggling tech gazillionaires can cobble together $100, or at least enough money to buy a bag of ice.