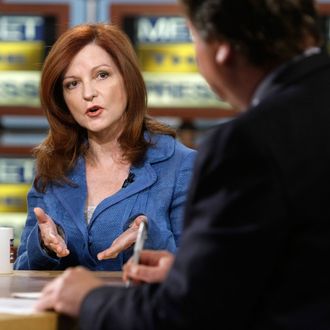 Photo: Alex Wong/Getty Images
The New York Times announced today that weed-eating Op-Ed veteran Maureen Dowd will be dropping one of her two weekly columns to become a staff writer at The New York Times Magazine. "Maureen is one of The Times's signature writers. Period. And as we work toward a redesign that will put new emphasis on stylish, long-form narratives, she'll be a brilliant addition to our team," said the Magazine's new editor Jake Silverstein. "While I can't disclose any specific assignments yet, I can reveal that Maureen's subject matter for the magazine will range far afield from her current bailiwick of politics, foreign affairs, Hollywood, and edible marijuana."
It's a good time for a change, and a promising direction. Before she was nibbling pot candy bars as stunt journalism, and even before the Monica Lewinsky commentary that won her a Pulitzer Prize — Amanda Hess of Slate took a skeptical look at how those columns have aged earlier this year — Dowd was an electric reporter known for her sharp, observant narrative narratives. "I always liked the sort of funnier, weirder thing to write about as opposed to the official thing that would be officially more prestigious but, to me, not as interesting," Dowd told Ariel Levy in a 2005 New York cover story. "So I liked being a color girl. You can deliver something unique."
And she did. The news today that she'll return to feature writing (while also holding onto her Sunday column) was met with some enthusiastic Dowd crate-digging from the type of people likely to have a favorite MoDo story from the '80s. As Elon Green wrote in "Maureen Dowd, Cub Reporter," she was once a journalist who "happily dove neck-deep in the muck." For instance:
"For Victims of AIDS, Support in a Lonely Siege," New York Times, December 5, 1983
In her Times breakthrough as a Metro reporter, Dowd visited with Larry Kramer and the Gay Men's Health Crisis when the numbers of AIDS cases across the country was still under 3,000. "Can't something be done?" Kramer asks in the story's prescient climax. "The rest of the city, my straight friends, go on with life as usual and I'm in the middle of an epidemic."
"9PM to 5AM," New York Times, November 4, 1984
This look at '80s nightlife, also noted by Green, opens with a quote from Andy Warhol. What more do you need to know?
"Lisa in Wonderland," New York Times, November 9, 1986
One of the definitive stories of the club-kid era, Dowd trails "Lisa Edelstein, a nice girl from a New Jersey suburb," and tracks "how she got to be Lisa E., New York's reigning Queen of the Night, Girl of the Moment, new Edie Sedgwick and top 'celebutante' of 1986." This one ages well, especially ahead of reality TV.
"The Dweebs on the Bus," GQ, September 1988
Co-written with her BFF Alessandra Stanley, the cool girl duo ("think Heathers, but nice," as Levy called Dowd's clique) takes on the square political reporters on the trail with Bush and Dukakis: "There is a new breed of political reporters in 1988, made up more of Rhodes scholars than of rogues. It is a group that some find appallingly well behaved." Pity the nerds.
"AT DINNER WITH: Rush Limbaugh; A Shy, Sensitive Guy Trying to Get By in Lib City," New York Times, March 24, 1993
By this point a Times veteran but still hungry, Dowd is at her best when paired with a pig of a man willing to reveal far too much over a lavish meal. "Swollen by beluga, the bill, with tip, is $505.96," Dowd writes. "The reporter paid."