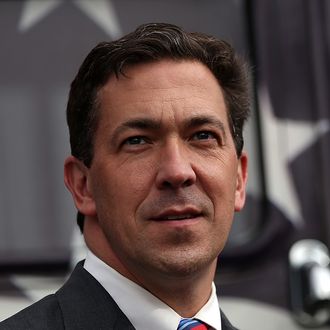 Photo: Justin Sullivan/2014 Getty Images
The Republican Senate primary in Mississippi has been this year's most bizarre race. After tea-party-backed State Senator Chris McDaniel narrowly beat Senator Thad Cochran in the GOP primary, triggering a runoff election, the 84-year-old incumbent successfully argued that his seniority in the Senate is an asset, and convinced a large number of black Mississippi Democrats to vote in the state's open primary. Cochran won the nomination by 7,667 votes, but now, six weeks after the election, McDaniel has filed a legal challenge asking the party to overturn the results. On Monday, McDaniel declared that he actually won the election by about 25,000 votes, and said he should be named the nominee. "We are not asking for a new election, we are simply asking that the Republican Party actually recognize the person who won the runoff election," said Mitch Tyner, McDaniel's attorney.
At a press conference on Monday, Tyner said the campaign found 3,500 people who cast ballots in both the Democratic and Republican primaries, there were 2,275 "improperly cast" absentee ballots, and 15,000 votes cast by ineligible voters. How the campaign arrived at the 25,000 figure is a bit murky, but Tyner mentioned that polling after the election found 71 percent of the Democrats who voted in the GOP runoff did not intend to vote for the Republican nominee in November.
Since election night, McDaniel has declared that we need to be sure that the "Republican primary was won by Republican voters." State election officials said that actually doesn't matter — anyone who didn't vote in the Democratic primary was allowed to vote in the GOP runoff. However, shortly after the election, McDaniel claimed crossover voting is actually illegal under state law. "We have a statute, a law in our state that says you cannot participate in a primary unless you intend to support that primary winner in the general. [Democrats who voted for McDaniel] have no intention to do that, they'll be voting for [Democratic nominee] Travis Childers in November. We know that, they know that, and so that makes their actions illegal," McDaniel told conservative radio host Mark Levin.
CBS News notes that the statue on intent was "effectively invalidated" by the courts, and there's no legal way to question voters on their reasons for supporting a particular candidate. Matthew Steffey, a professor of election law at Mississippi College School of Law in Jackson, tells ABC News that the fact that McDaniel is raising the issue shows he's "playing a very weak hand." "If he had a large number [of cross-over votes] we wouldn't be talking about polls and throwing out 71 percent of Democratic votes, he's doing that because it's all he's got," he said.