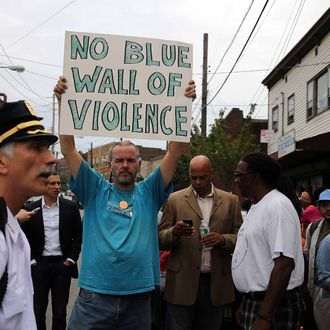 Photo: Spencer Platt/2014 Getty Images
The New York City medical examiner's office has confirmed what many people have already determined on their own: Eric Garner died as a direct result of an illegal chokehold administered by an NYPD officer. (The authorities initially suggested that cardiac arrest killed him.) On Friday afternoon, a spokesperson announced that the 43-year-old Staten Island man's death had been ruled a homicide caused by "compression of his neck (chokehold), compression of his chest and prone positioning during physical restraint by police." Garner's asthma, heart disease, and weight were listed as contributing factors.
It's not yet clear what this means for Daniel Pantaleo, the cop who was videotaped choking Garner right before he died. The Staten Island district attorney's office, which would be responsible for pressing charges against Pantaleo (as well as the other officers involved in the incident) issued a statement saying only, "We await the issuance of the official death certificate and the autopsy report. The investigation into Mr. Garner's death continues."
Garner's widow, Esaw, seemed considerably more grateful for the development. "Thank God the truth is finally out," she told the Daily News. "Thank God for that." So far, the NYPD hasn't commented on the announcement.