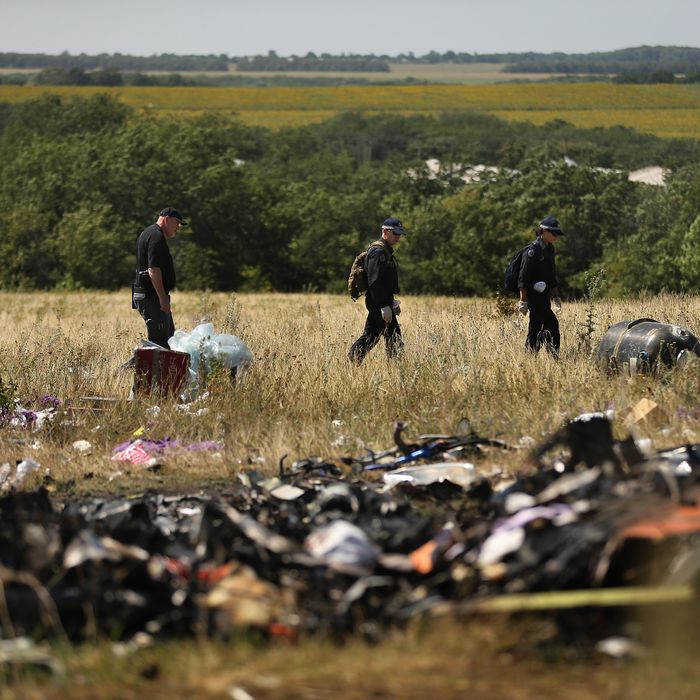 Photo: Kate Geraghty/The Sydney Morning Herald/Fairfax Media via Getty Images
Looks like there may not be a homecoming for some victims of Malaysian Airlines Flight 17, which was shot down near the east Ukrainian city of Donetsk three weeks ago today. Dutch Prime Minister Mark Rutte announced yesterday that they are pausing search operations indefinitely because of the war brewing in the region immediately around the crash site.
Human remains and belongings were scattered over a wide radius during the crash, and thus far, only 228 coffins have been transported to the Netherlands. (Experts say the body parts found in them may belong to more than 228 victims, since only 150 complete bodies were found.) The identification process itself can take weeks or months. 
But in the weeks since the crash, tensions between leaders in Kiev and Moscow have escalated. According to leaders of the 100-person search team, "shots were fired with small caliber weapons in the vicinity of the search team" as they were working, prompting additional safety concerns. 
Adding to immediate safety concerns are fears of a larger Russian invasion into Ukraine. In recent weeks, Russia has deployed tens of thousands of troops to its border with Ukraine, as well as other military equipment and personnel. U.S. Secretary of Defense Chuck Hagel called this move "a threat."
"All this is aimed at keeping the Ukrainian military on its toes," economist Timothy Ash told Bloomberg. "While Russia continues to pursue such maneuvers, the Ukrainian military has to deploy troops along its border to counter the threat of a Russian invasion, and hence diverting scarce troops away from their ongoing offensive."
International observers have long suspected that Moscow has been providing weaponry to Ukraine's pro-Russia rebels. In the weeks after the MH17 crash, many speculated the Buk missile launcher thought to have taken down the plane arrived in Donetsk via Moscow. 
Ukrainian forces have slowly been taking back land seized by rebels earlier this spring, pushing them back into a cornered position. Now that investigators are out of the immediate area, leaders say they're scrapping the shaky cease-fire with Russian rebels and will resume operations in the area. We can't imagine this will go over well with Mother Russia.