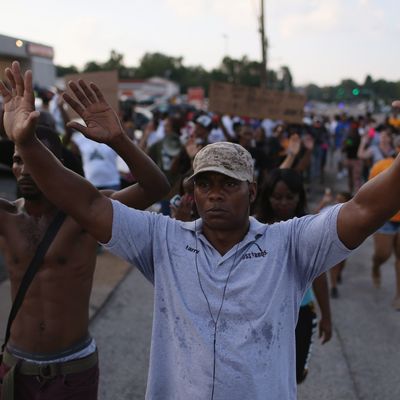 Protesters in Ferguson.
Photo: Joe Raedle/2014 Getty Images
In what could pass as good news these days, simultaneous reports from Ferguson and Staten Island say that grand juries will be convened in the deaths this summer of two unarmed black men at the hands of police.
Charges could follow, eventually. Maybe.
In the case of 18-year-old Michael Brown, who was shot and killed by Ferguson police officer Darren Wilson outside of St. Louis on August 9, the grand jury could begin its investigation as soon as tomorrow, Bloomberg reports. "We're going to attempt to present evidence to the grand jury on Wednesday," said Ed Magee, a spokesman for St. Louis County Prosecutor Bob McCulloch, according to MSNBC.
Bloomberg adds, "Wilson will be afforded an opportunity to testify before the grand jury, Magee said. Macgee said it's not clear how long the proceedings will take or how many witnesses may be called."
In Staten Island, District Attorney Daniel Donovan said in a statement, "I have determined that it is appropriate to present evidence regarding the circumstances of [Eric Garner's] death to a Richmond County Grand Jury. Yesterday, the Court granted my application for the impaneling of an additional Grand Jury and I intend to utilize that Grand Jury sometime next month to begin presenting evidence on this matter." In what the medical examiner ruled a homicide, Garner died after being put in what appeared to be an illegal NYPD chokehold during an arrest for selling loose cigarettes.
The move to a grand jury comes after a "careful" review of the evidence, Donovan said. Although he promised a "fair, thorough and responsible" investigation, don't expect any more information on the case for a while:
"I will make no comment now, or during the period of time that the Grand Jury is convened, regarding the days that the Grand Jury will be sitting; who may be called as a witness before the Grand Jury; what any witness has or will testify about before the Grand Jury; when the Grand Jury will conclude its investigation; what criminal charges will be considered by the Grand Jury, or against whom the Grand Jury might consider any such criminal charges."