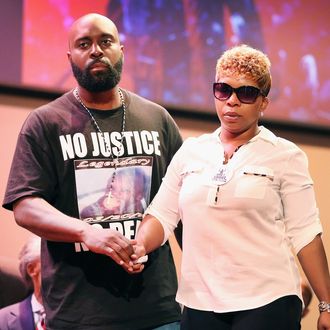 Michael Brown Sr. and Lesley McSpadden, the parents of slain teenager Michael Brown, attend a rally at Greater Grace Church on August 17, 2014 in Ferguson, Missouri. Their son was shot and killed by a Ferguson police officer on August 9. Despite the Brown family's continued call for peaceful demonstrations, violent protests have erupted nearly every night in Ferguson since his death.
Photo: Scott Olson/Getty Images
Lesley McSpadden and Michael Brown Sr., the parents of Michael Brown, the unarmed teenager who was killed by a police officer in Ferguson on August 9, will attend a rally for Eric Garner in Staten Island. Garner, who was asthmatic, died after an NYPD officer put him in a chokehold on July 17. The march is being held on Saturday, August 23, and will be led by Reverend Al Sharpton.