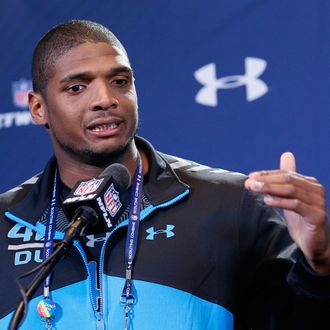 Photo: Joe Robbins/2014 Getty Images
Michael Sam's attempt to become the NFL's first openly gay player has hit a roadblock. After surviving a Friday round of cuts, he lost his spot on the St. Louis Rams on Saturday afternoon, the deadline by which all NFL teams were required to have their rosters trimmed down to 53 names. ESPN reports that Sam was passed over for undrafted rookie Ethan Westbrooks.
Sam, a seventh-round draft pick, performed decently during the preseason, leading the Rams' Thursday night game against the Miami Dolphins with six tackles. When asked how he felt about the critical upcoming weekend, he told ESPN, "You know what, it's not going to be like the draft. I'm very confident that I'm going to sleep really well tonight, and I'm very confident I'm going to be on a team, the Rams or any other team in the NFL." Despite loud, constant questions about whether his sexual orientation would create a "distraction," Rams observers said that Sam seemed to be fitting in with his teammates. The only Sam-related distraction the outside world saw was ESPN's offensive report on his locker-room showering habits earlier this week.
Also on Thursday night, Rams coach Jeff Fisher said, "I believe [Sam] can play in this league." That might still be true, even with Saturday's announcement. The NFL's 31 other teams now have the option to claim Sam, along with his fellow waived players. Meanwhile, a "league source" told ESPN that the Rams are interested in tapping Sam for their practice squad.
At a post-cut press conference, Fisher answered a question about the prospect of another team taking Sam by saying, "There's no challenge with respect to Mike Sam. He's not about drawing attention to himself. He kept his head down and worked and you can't ask anything more out of any player for that matter." Sam responded to the news on Twitter shortly after: