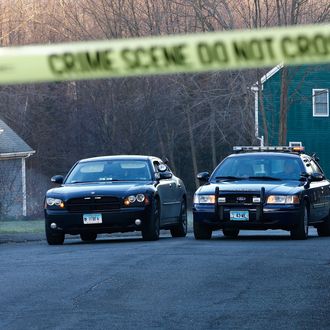 Photo: Jared Wickerham/2012 Getty Images
Yet another man died at the hands of police this weekend. Michael Brown, an 18-year-old who was about to start college, was fatally shot in Ferguson, Missouri, on Saturday.
The unarmed teen was shot outside his grandmother's apartment complex in the St. Louis suburb. According to eyewitness Piaget Crenshaw, he was running with his hands up, and his mother, Lesley McSpadden, says Brown was on his way to visit his grandmother. Eventually, the grandmother found him dead on the ground.
Yet according to the police, Brown was shot following an altercation with an officer. CBS reports that St. Louis County Police Chief Jon Belmar announced that a six-year veteran of the force was in a scuffle with two people who tried to wrest away his weapon. The officer fired when the individuals began to run.
Hundreds of residents of the largely black suburb came out to protest the shooting, and the St. Louis chapter of the NAACP is looking into the case. Local president Esther Haywood said the group was "hurt to hear that yet another teenaged boy has been slaughtered by law enforcement especially in light of the recent death of Eric Garner in New York who was killed for selling cigarettes."
According to NBC, the protesters' chants included "Kill the police." At other times, the mourners gathered into a prayer circle and held a candlelight vigil. His stepfather stood outside with a sign:
This comes after a spate of negative attention for New York City's own police department. In July, Eric Garner died after being placed in an NYPD chokehold. In a video of the incident, Garner can be heard telling officers that he "can't breathe." Among the other instances of questionable uses of force was a chokehold another officer used on a pregnant woman.
The Missouri incident is under investigation.