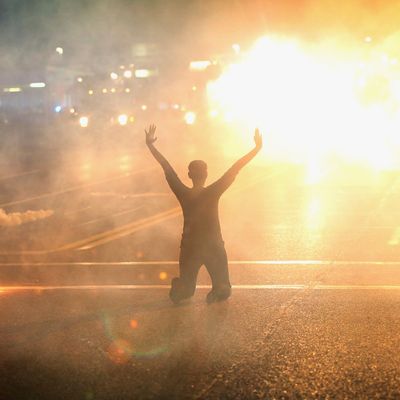 Photo: Scott Olson/2014 Getty Images
While there was hope on Thursday that police had deescalated the protests in Ferguson, Missouri, by trying a less militaristic response, the situation reversed again over the weekend. More than two hours before a second midnight curfew was set to begin on Sunday night, police fired tear gas and flash grenades in an attempt to disperse the crowd. Authorities said they were responding to reports of gunfire, looting, and a coordinated advance on the police command post.
While several civil-rights organizations called on Governor Jay Nixon to rescind the curfew and state of emergency put in place this weekend, at 3 a.m. on Monday morning he signed an executive order calling in the National Guard to "help restore peace and order and to protect the citizens of Ferguson."
Here's the full statement:
"Tonight, a day of hope, prayers, and peaceful protests was marred by the violent criminal acts of an organized and growing number of individuals, many from outside the community and state, whose actions are putting the residents and businesses of Ferguson at risk.  I join the people of Ferguson, and all Missourians, in strongly condemning this criminal activity that included firing upon law enforcement officers, shooting a civilian, throwing Molotov cocktails, looting, and a coordinated attempt to block roads and overrun the Unified Command Center.  These violent acts are a disservice to the family of Michael Brown and his memory, and to the people of this community who yearn for justice to be served, and to feel safe in their own homes. Given these deliberate, coordinated and intensifying violent attacks on lives and property in Ferguson, I am directing the highly capable men and women of the Missouri National Guard to assist Colonel Ron Replogle and the Unified Command in restoring peace and order to this community."
According to Time, the conflict on Sunday night began when groups of teenagers, who some say were rival gang members, began fighting near the burned-out QuikTrip near where 18-year-old Michael Brown was killed last weekend. Shots were heard, and there were reports of multiple people with guns in the area. While police were preparing to respond, about 300 protesters began marching down West Florissant Avenue toward the police command center.
"Based on the conditions, I had no alternative but to elevate the level of response," said Captain Ron Johnson of the Missouri Highway Patrol, who is in charge of the police response. The crowd was ordered to disperse, and when they failed to do so, police in riot gear fired tear gas, rubber bullets, and flash grenades.
Some protesters who failed to disperse were arrested.
Captain Johnson said employees of a McDonald's restaurant were forced to hide in a storage room after it was "overrun" by large crowds and looted. Others claimed that people headed to the McDonald's to take refuge from the tear gas, and one woman was photographed being treated with milk from the restaurant. Johnson said a Domino's Pizza, a Family Dollar store, an auto-parts store, and a self-storage business were also looted.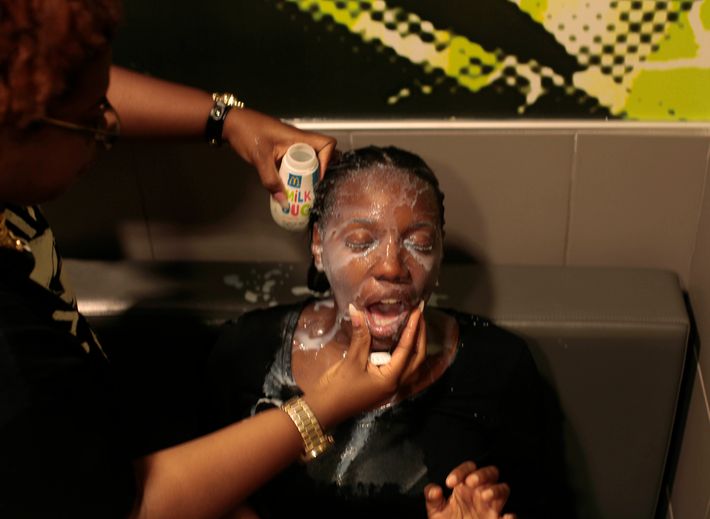 Protesters arranged cinderblocks across the street in an attempt to create a barricade, but police vehicles just rolled over them.
While some disputed police claims that they were targeted by protesters, Captain Johnson told reporters, "There were shootings, vandalism and other acts of violence that clearly appear not to have been spontaneous but premeditated criminal acts." He added, "The catalyst was not civil disobedience, but pre-planned agitation."
Journalists said it was hard to tell what was happening because the police were restricting their movements. Three reporters were detained, and others said police threatened to shoot or mace them.
By the time curfew went into effect at midnight, most people were off the streets. Captain Johnson told reporters that seven or eight people had been arrested for failure to disperse. Two or three civilians were injured in incidents that did not involve police, and no officers were injured.