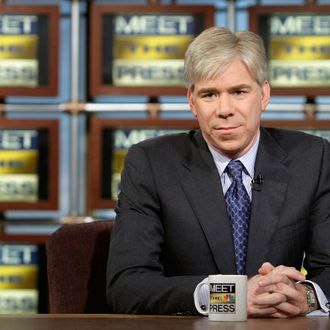 Photo: Alex Wong/Getty Images
Last time we heard rumors of David Gregory's demise at NBC, the network suggested a "grain of salt." (That was after emphatically denying it had hired a psychological consultant to figure out why no one wanted to watch Gregory host Meet the Press.) But now, with Politico reporting that Tim Russert's still-empty shoes will be filled before the end of the year by NBC host, White House correspondent, and political director Chuck Todd, there's been no such reassurance for Gregory.
Mike Allen's Playbook reported yesterday that although "nothing is definite or decided," Todd would be tapped to save the struggling Sunday talk show while Gregory is "unlikely to remain at the network."
Amid all of the bad press this summer, the current host even came back early from vacation in Nantucket, but the last-ditch gesture was not enough to solve "the David Gregory problem":
The host had driven NBC's once-dominant Sunday show to the bottom of the ratings race. He was widely disliked within the organization and his ambition and vanity rubbed important colleagues at NBC the wrong way. Perhaps most importantly, he didn't seem all that engaged with politics and policy, the bread and butter of Sunday public affairs programming.
There's been no official statement confirming the change, but no new denial either. Although Gregory told Politico he is "staying above the fray," the Daily News reports today that he's "embarrassed" and "absolutely devastated" by the reports.
Even hosts from rival networks are chiming in: "It is so slow, so painful and wicked," blogged Fox News' Greta Van Susteren. And for CSPAN, it's already a done deal: