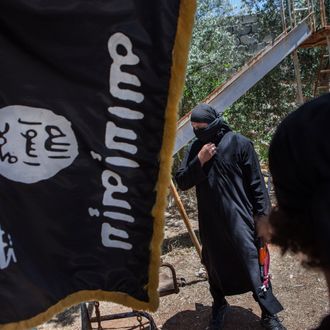 Photo: Daniel Leal-Olivas/Corbis
U.S. intelligence agencies have identified nearly a dozen Americans who have traveled to Syria to fight for ISIS, the Sunni jihadist group that split from Al Qaeda in February 2014.
According to the New York Times, ISIS's expansion is attracting more and more foreign fighters from America and Europe who are migrating to Syria to join the movement. Government officials also warned that ISIS is recruiting foreign women to marry its growing number of soldiers.
Writes the Times:
ISIS has become more attractive to would-be militants because, unlike Al Qaeda, it has seized territory that it rules by strict Islamic law. "ISIS is able to hold itself up as the true jihad," said a senior American official. "They're saying: 'Look at what we are doing, what we're accomplishing. We're the new face. We're not just talking about it. We're doing it.' "
Meanwhile, Fox News reports that Nidal Hasan, the convicted murderer responsible for the 2009 shootings at Fort Hood, has written a letter expressing his desire to join the Islamic caliphate. That may prove rather difficult, as Hasan was sentenced to the death penalty in August 2013.