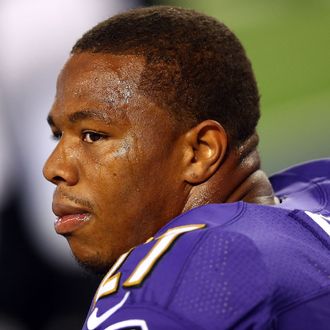 Ray Rice.
Photo: Ronald Martinez/Getty Images
When the NFL suspended Ravens running back Ray Rice for two games last month as a result of a February domestic-abuse incident in an Atlantic City casino, the backlash was almost immediate. Video had surfaced that showed Rice dragging Janay Palmer, then his fiancée and now his wife, from a casino elevator, and police reportedly are in possession of a second video that shows Rice hitting her and knocking her out. (Rice was accepted into a pretrial intervention program that will lead to his third-degree aggravated assault charge being dropped upon completion.) Even as a consensus formed that Rice got off easy, NFL commissioner Roger Goodell initially defended his decision, calling it "consistent with other cases." But today, Goodell admitted that he got the Rice decision wrong and implemented stricter punishments for domestic assault — as well as sexual assault — incidents.
First-time offenders will now receive a six-game suspension (and possibly a longer one, depending on the circumstances), and second-time offenders will receive a lifetime ban. Goodell addressed the Rice incident and announced the changes to the league's policy in a nearly 2,000-word letter to the league owners. It reads in part:
Recently, we have addressed issues of respect­ – respect for co-workers, opponents, fans, game officials, and others. Whether in the context of workplace conduct, advancing policies of diversity and inclusion, or promoting professionalism in all we do, our mission has been to create and sustain model workplaces filled with people of character. Although the NFL is celebrated for what happens on the field, we must be equally vigilant in what we do off the field.

At times, however, and despite our best efforts, we fall short of our goals. We clearly did so in response to a recent incident of domestic violence. We allowed our standards to fall below where they should be and lost an important opportunity to emphasize our strong stance on a critical issue and the effective programs we have in place. My disciplinary decision led the public to question our sincerity, our commitment, and whether we understood the toll that domestic violence inflicts on so many families. I take responsibility both for the decision and for ensuring that our actions in the future properly reflect our values. I didn't get it right. Simply put, we have to do better. And we will.
You can read the full letter here, but below is the passage about the new punishments:
Effective immediately, violations of the Personal Conduct Policy regarding assault, battery, domestic violence or sexual assault that involve physical force will be subject to a suspension without pay of six games for a first offense, with consideration given to mitigating factors, as well as a longer suspension when circumstances warrant. Among the circumstances that would merit a more severe penalty would be a prior incident before joining the NFL, or violence involving a weapon, choking, repeated striking, or when the act is committed against a pregnant woman or in the presence of a child. A second offense will result in banishment from the NFL; while an individual may petition for reinstatement after one year, there will be no presumption or assurance that the petition will be granted. These disciplinary standards will apply to all NFL personnel.
Because they fall under the league's personal-conduct policy, the changes to the rules don't need to be agreed to by the players' union in order to be implemented.