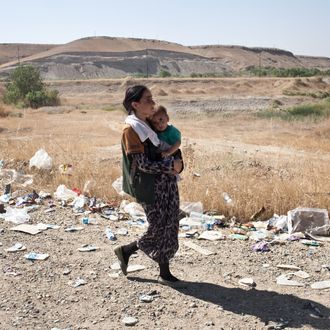 A Yezidi woman carries her child to shelter after crossing from Syria back into Iraq.
Photo: Sebastian Meyer/Corbis
New York Times Paris bureau chief and veteran war correspondent Alissa Rubin was hurt today when a helicopter flying aid to the Yazidi stranded in Iraq's Sinjar mountains went down, killing the pilot. The Times reports that the incident was likely an accident and no ISIS rebels were in the area.
Rubin reportedly broke her wrists but was conscious, while a photographer working with the Times aboard was unharmed.
"Today Alissa J. Rubin, a correspondent for The New York Times and Adam Ferguson, a freelance photographer on assignment for The Times, were injured when an Iraqi military helicopter carrying aid to stranded refugees crashed in northern Iraq," said the paper's executive editor Dean Baquet in a statement. "They have been airlifted out of the region in order to receive medical care. Alissa is a close friend and one of our most esteemed journalists. Our thoughts and prayers are with both Alissa and Adam."
Thousands of Yazidi refugees, a mostly Kurdish ethnic minority, remain trapped in the mountains, on the run from Sunni militants as the U.S. continues to deliver both humanitarian aid and drone strikes in the region. "I still believe they will come save us," one refugee told the Associated Press, in reference to American forces.