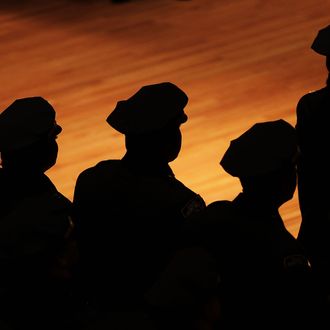 Photo: Spencer Platt/Spencer Platt/Getty Images
While the mayor works to sell Democrats on hosting the 2016 convention in the endlessly hip (but also diverse!) borough of Brooklyn, one publicity-hungry police union is doing their damnedest to undermine him. Where de Blasio sees kale and progressive racial harmony, the Sergeants Benevolent Association, like the New York Post, sees "squeegee people" and "anti-safety agitators." Hillary Clinton, they more or less claim, would not be safe here.
"While the Barclays Center is still new and glistening, the great city in which it stands is lurching backwards to the bad old days of high crime, danger-infested public spaces, and families that walk our streets worried for their safety," wrote S.B.A. president Ed Mullins in an open letter that ran yesterday in the New York Times and, of course, the Post. (The union happens to be in the middle of labor negotiations.)
"The D.N.C. should choose another venue," the letter continued, because, "Mayor de Blasio has not earned the right to play host to such an important event." De Blasio countered, the Times reports, by calling the stunt "opportunistic." "It's fear-mongering to try and benefit their own position in contract talks," he said. "Don't stoke fear in the city we love."
Although shootings are up slightly for the year so far, murders are down 12 percent, and overall crime is still dropping. Still, "there's no denying" police morale is low, NYPD Commissioner Bill Bratton admitted to the Times, due in part to "negative stories in the media." That dastardly media, always digging up men left dead at the hands of police and dramatic end-of-days pronouncements about how unsafe the city is.