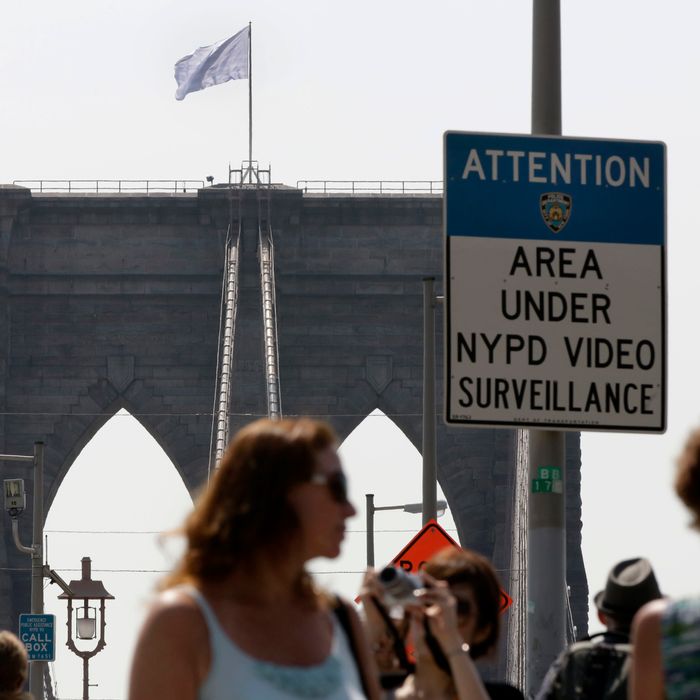 It's been more than two weeks since some non-terrorist punks replaced the American flags on the Brooklyn Bridge with bleached versions, and despite the dozens of NYPD detectives on the case — "many of the city's best and brightest investigators" — no suspect has had his or her face plastered across the cover of the New York Post. Bad old days, indeed.
"We think we have a very good idea of who was involved," said NYPD Commissioner Bill Bratton on CBS This Morning. (Presumably not this guy, even though he "admitted" to it.) However, "Knowing's not proving," Bratton cautioned. "So when we have the proof, we'll move. We've put, as you might appreciate, exhaustive efforts into this investigation." And yet.
The Wall Street Journal reports that all of those exhaustive efforts have resulted in a time frame — 3:30 to 4 a.m. — but "no direct critical evidence," just a tiny bit of DNA on the lasagne pans used to black out the lights. "Additionally," the Journal adds, "the working theory is that the flags were handmade since the department has scoured manufacturers and 'this is not a commercially made flag.'"
The most firm clue to date is a group of skateboarders who were caught on camera entering the bridge on the Manhattan side, the official said. Police are looking to identify them. While they are not suspects, they are wanted for questioning to determine what they saw.
Helluva job, NYPD.