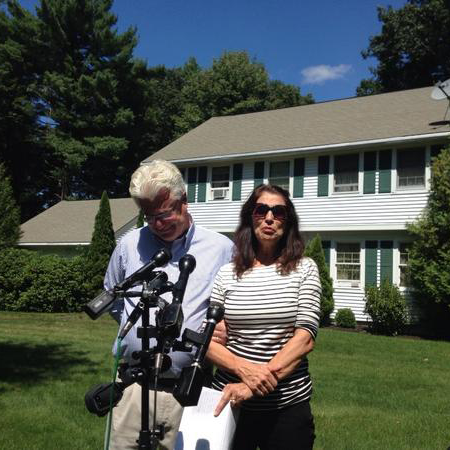 Foley's parents.
Photo: Bernice Corpuz/WBZ
This afternoon, an angry President Obama addressed the execution of American reporter James Foley at the hands of Islamic State militants, declaring "no just god would stand for" the group's actions "yesterday and every day." Foley, he said, "was taken from us in an act of violence that shocks the conscience of the entire world."
ISIS (also known as ISIL), Obama said, "has no ideology of value to human beings. Their ideology is bankrupt."
"People like this ultimately fail," he said. "They fail because the future is won by those who build and not destroy, people like Jim Foley."
While Obama offered no specific, altered course of action in Iraq, "There has to be a common effort to extract this cancer so it does not spread," he said. "The United States of America will continue to do what we must do to protect our people. We will be vigilant and we will be relentless."
"A group like ISIL has no place in the 21st century," he said.
A 40-year-old freelance journalist, Foley was captured in Syria two years ago. Earlier today, Obama spoke by phone with Foley's parents. "We're so proud of Jim," they told reporters. "We know Jimmy's free," said his father, John Foley. "He's finally free. And we know he's in God's hands."
Update: Secretary of State John Kerry has also issued a statement. "James Foley went to the darkest of places to shine the light of truth," he begins.