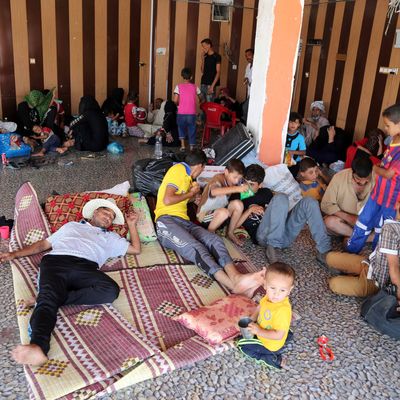 Just before leaving for his summer vacation on Martha's Vineyard on Saturday, President Obama delivered an update on the United States' new military operation in northern Iraq. Speaking to reporters on the White House lawn, Obama said that the air strikes, which began on Friday morning, have "successfully destroyed arms and equipment" belonging to ISIS militants. He also said he was "confident" that the effort will prevent ISIS from massacring members of the Yazidi religious minority, tens of thousands of whom are now stranded on a remote mountain after fleeing the Islamic extremists. 
Obama declined to say how long he thought the mission would take. "I don't think we are going to solve this problem in weeks. I think this is going to take some time," he said, adding that he was obligated to protect American interests and personnel in the country from the threat of ISIS. 
Meanwhile on Saturday, three American cargo planes successfully delivered more supplies to the Yazidis stuck on Sinjar Mountain. The New York Times reports that "the planes — one C-17 and two C-130s — dropped more than 28,000 meals ready to eat and more than 1,500 gallons of fresh drinking water, the Pentagon said. That brings the number of meals delivered to the refugees to 36,224 in the past two days." While U.S.'s old partner in Iraq the United Kingdom has decided against participating in this military campaign, Foreign Secretary Philip Hammond said that British humanitarian aid for the refugees would begin "imminently." 
During his press conference, Obama explained that the U.S. military is working on getting the refugees off the mountain. "The next step, which is going to be complicated logistically, is how can we give people safe passage," he said. He also said, "The most important time table that I'm focused on right now is the Iraqi government getting formed and finalized," presumably so that the U.S. can finally leave Iraq for good.