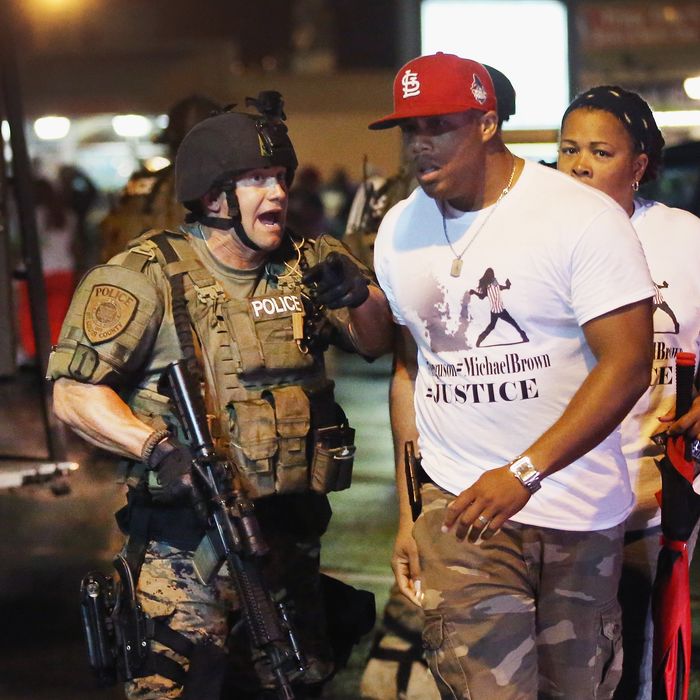 Photo: Scott Olson/2014 Getty Images
Back early from vacation on Martha's Vineyard, President Obama delivered a statement this afternoon on the situation in Ferguson, reiterating his careful balancing act from last week. "To a community in Ferguson that is rightly hurting and looking for answers, let me call once again to seek some understanding rather than to simply holler at each other," he said on Monday from the White House. "Let's seek to heal rather than wound each other."
"We need to listen, not just shout," Obama added. "To build not tear down. That's how we're going to move forward together."
While Obama noted once again that there is "no excuse for excessive force by police or any action that denies people the right to protest peacefully," and said "I understand the passion and the anger," he cited "a small minority of individuals" using violence, "giving into that anger by looting, carrying guns, and even attacking police."
"Ours is a nation of laws," Obama said.
The Justice Department has opened "an independent, federal civil rights investigation into the death of Michael Brown," he added, noting that he has met with Attorney General Eric Holder. Holder will travel to Ferguson on Wednesday.
In the meantime, with the Missouri National Guard deployed to Ferguson, Governor Jay Nixon has lifted the curfew he imposed over the weekend. "Missouri National Guard Brigadier General Gregory Mason will oversee Guard operations in Ferguson under the overall command of the Missouri State Highway Patrol," he said in a statement. "With these additional resources in place, the Missouri State Highway Patrol and local law enforcement will continue to respond appropriately to incidents of lawlessness and violence, and protect the civil rights of all peaceful citizens to make their voices heard. We will not use a curfew tonight."
"Again, I join the people of Ferguson, and all Missourians, in strongly condemning the violent acts we saw last night, including the firing upon law enforcement officers, the shooting of a civilian, the throwing of Molotov cocktails, looting and a coordinated attempt to overrun the unified Command Center," he concluded.
"We are all frustrated and looking for justice to be achieved regarding the shooting death of Michael Brown. As the dual investigations continue into what happened nine days ago at Canfield Green, we must defend Ferguson from these violent interlopers so that the peaceful protests can operate in peace and the search for answers and justice can continue."